October is Breast Cancer Awareness month and in my house, it's always a topic we touch on. Every year our entire local family joined together to participate in the Denver Race for the Cure to show our support in building awareness. My kids have always been involved and join in the events in the day. We talk about why we are involved and who we know that we are supporting and encouraging.
I alone have participated in a variety of events and fundraisers for a number of years. As time has gone on, my family has been curious what I was doing and why, so after a while they all got involved. It's a really need experience to be able to share in the support with kids. They are so willing and readily available to love unconditionally.
This year we all wore tutus. At first, when the idea came up, I loved it. Then I started thinking, this seems a bit too much – turning a serious topic into a carnival, so I was hesitant. But then when we all got together, decked out in our pink at 6am, the happiness was overflowing and the tutus just made more smiles. Even the guys dressed in their pretty pink outfits to show their support and love.
There are a number of other kid focused websites sharing in this breast cancer awareness blog hop today… check out what they have to share: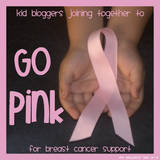 Do you get involved in supporting Breast Cancer Awareness?
What have you done to get involved in the Go Pink for Breast Cancer Awareness? Share below or fine more inspiration…
Find creative DIY inspiration with my new book...
Quick and Easy Creativity - Last Minute Gift Ideas
, just in time for gift shopping season! This book is filled with over 20 project tutorials created by 4 different fantastic designers! Fun projects ideas you can make in less than a day. You'll fine a variety of project ideas for kids, adults, families and groups.
Find out more or buy the book.
Comments - I'd love to hear what YOU think!