We love making projects with felt. So when I found a huge pile of eco felt at Michael's, I had to snatch up a few packs. This felt is fun, sparkly, textured and full of great color. Some is thick and some is standard. Some has embossed pattern textures and some has a thick carpet like ribbing. We love all the fun things we can make with this felt so much so that I want to share some with you.
As of 5 minutes ago, Projects for Preschoolers earned it's 600th follower on Facebook. As a big THANK YOU to all my followers, fans, subscribers and readers, here is a fabulous felt freebie giveaway I'd like to share with one lucky reader!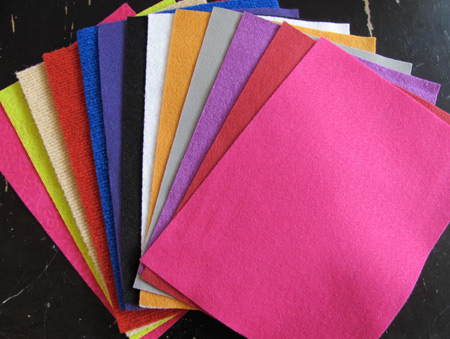 Felt is a great addition to crafting projects as well as learning games. With a variety of textures, thicknesses and colors of this felt your preschooler can explore the differences.
Fun things to do with felt:
I am giving away a 14 sheets of this wonderful felt for your preschool craft projects! The winner will receive the assortment of 9×12″ felt sheets in a variety of colors and textures shown above and below (plus one extra mystery piece).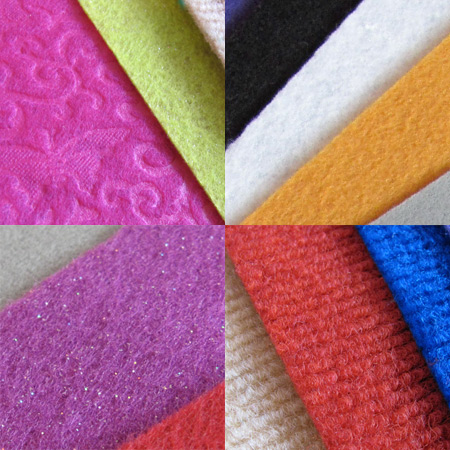 To enter to win this crafting felt pack:
Leave a comment below telling me what you like about crafting felt, what you plan on making with felt or your favorite felt fun. I'd love to hear about felt projects you've made with your preschooler!
Make sure to include a valid email address so you can be contacted if you win. You must leave this first comment for any of the extra entries to count.

For 5 extra entry opportunities:
Blog about this giveaway. You may use the photos included as long as you link back to this post with "Felt giveaway for Preschool Crafts". Then leave a comment below telling me about it, yes, please include your blog post link!
Like Projects for Preschoolers Facebook and leave a comment below.
Subscribe to the Projects for Preschoolers newsletter and leave a comment below.
Share this giveaway on Facebook and leave a comment below.
Share this giveaway on Twitter by RTing the following:
"RT @funforpreschool Enter the Crafting felt giveaway at http://bit.ly/fExwaX #pfpgiveaway"
Then leave a comment below.
This giveaway is open to everyone, however free shipping is only available to US mailing addresses. If the winner can not be reached within 5 business days, a new winner will be chosen.
This craft felt giveaway will close on Tuesday, April 5, 2011 at 7pm Eastern time.
The Winner will be announced on the following Friday.
Update: We have a winner! This giveaway is now closed. There were a total of 54 comment entries including comments about tweeting and following us on Facebook. Thank you all for your enthusiasm an participation! A big Congrats to Kim Elliott for winning this giveaway, I hope you have a lot of felt fun!