There are a ton of playdough recipes out there. I searched high and low looking for the best recipes to make playdough that I could find and the options were overwhelming. I decided to try the classic cooked playdough recipe one more time, this really is the best recipe for playdough ever (with my own added extra touch of course). It's soft and smooth and when stored in a plastic tub or bag will last for a long time. This playdough does requiring cooking but is quick t make and is well worth the effort.
You will need:
1 cup Flour
1 cup warm Water
1 teaspoon Oil (corn or vegetable are best)
2 teaspoons Cream of Tartar
1/4 cup salt
Hand lotion
Food coloring (optional)
glitter (optional)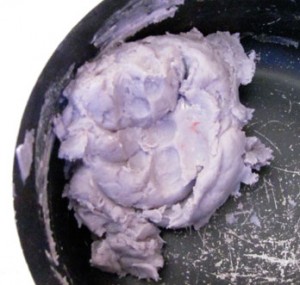 Make it:
In a medium sided (or larger) saucepan, combine flour, water, salt, oil and cream of tartar.
Heat on medium heat in sauce pan – stir frequently.
When the mixture is still a liquid consistency, add food coloring as desired.
Continue to heat the the playdough mixture until it is thick and dough-like (approximately 5-10 minutes), it may still appear lumpy, but that's ok.
Remove from heat and let cool for a few moments.
Kneed until smooth.
Make your playdough sparkle:
At this point, add in glitter if you'd like – the more fine, the better. Knead the glitter into the dough until it's well blended. Note: adding glitter will result in glitter on your hands when mixing and occasionally when playing.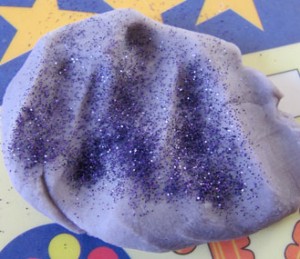 The extra magic ingredient:
Knead lotion into the dough by adding a squirt or two of lotion to your hands and then work the playdough with your hands. At first this may feel rather slippery/slimey, but as you mix the lotion into the dough the dough will take on a smoother texture.

You can leave the lotion out if you prefer. However, it adds an extra smooth feel to the playdough as well as prevents the playdough from leaving a dry residue on hands when playing with it.
For more playdough tips check out Playdough tips for extra fun
Find creative DIY inspiration with my new book...
Quick and Easy Creativity - Last Minute Gift Ideas
, just in time for gift shopping season! This book is filled with over 20 project tutorials created by 4 different fantastic designers! Fun projects ideas you can make in less than a day. You'll fine a variety of project ideas for kids, adults, families and groups.
Find out more or buy the book.
Comments - I'd love to hear what YOU think!