Hand prints made for some wonderful craft projects you can give as gifts or keep for yourself and cherish for years. This handprint craft project is easy to make for preschoolers and takes very little as far as supplies. You can easily adjust what you do with the finished clay hand print in this craft to use in a variety of different ways.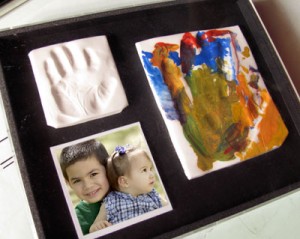 To make this handprint keepsake box
You will need:
Soft molding clay (I use Crayola's Modeling Magic clay)
Paints – watercolor or craft acrylics work great
Hot glue
Clear acrylic keepsake box frame
Photo
Thick cardstock or cardboard for backing
How to make it:
First make your handprint by taking some of the molding clay, kneed and flatten to about 1/2″ – 1/4″ thick. Gently press your child's hand into the clay so that it creates an impression of their hand. Carefully remove their hand so as not to damage the resulting handprint. Let dry or bake as directed. If you have purchased a hand molding kit, follow the directions included in the kit to make the handprint.
As the hand print is drying, prepare the cardboard backing. with whatever paper or extras you'd like included behind the handprint. Most keepsake box frames have cardboard in them, you can use this to cover or paint as your backing as well.
After the hand print is dried and set, have your preschooler paint the handprint as they'd like. Let dry.
Once the paint dries, carefully hot glue the handprint on to the cardboard backing that fits into the box frame.
Include any other embellishments, photos, etc. to complete the framed creation.
Carefully attach frame as directed.