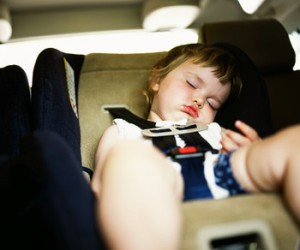 Guest post written by Lauren Dzuris
Between our children asking us "Are we there yet?" and "How much longer?" we'd wish they could entertain themselves better in the car.  Yes, it can get boring to look out the window after so long, but what happened to using their imagination?  Children can be hard to please sometimes, so if you're out of ideas, here are some things that will keep them entertained during each and every car ride!
Electronics: If you're a parent that is update with technology, I'm sure your child has some type of portable Nintendo or DVD player, if not an MP3 player.  These are great for entertainment, and usually keep them quiet and happy the whole way.
Car games: If you'd like your child to be a little more creative and not rely on technology, try some old car games.  Whether they play the license plate game and see how many different states they can find, or they guess what the person is going to look like in the car ahead it can be just as fun!   Although, one of my favorite games to play is the alphabet game.  Start with a category like food and say the word "apple", then someone has to start with a food that starts with an "e" because apple ends in "e", then you keep going without repeating the same foods.  It is definitely entertaining and can be quite a challenge!
Flash cards: A lot of children get excited to learn new things.  So, try and make your own flash cards to bring along in the car.  Make a few math problems, have them spell a few words, color a circle and ask what color it is, and maybe even consider using those Brain Quest cards for fun.  This can keep them busy, learning and having fun all at the same time!
If you use your imagination, you can always have fun! Be creative, think of ways to entertain your children, and start having fun in the car!
Lauren runs FindMyCarSeat, a baby car seat website that helps soon to be parents find the right car seat for their child, while giving them tips and advice on everything from pregnancy to caring for your baby.