Finger puppets are always a favorite in my house because their quick and easy to make but also easy to store. The kids love to play with them, making up stories and songs and various pretend play scenarios. So, for St. Patrick's day how about making a cute little leprechaun finger puppet using felt? You can substitute with paper or another fabric as well. We also used craft foam which you can use paper instead too. This project includes a free printable template which you could use to make your finger puppet by simply coloring, cutting and assembling if you'd like.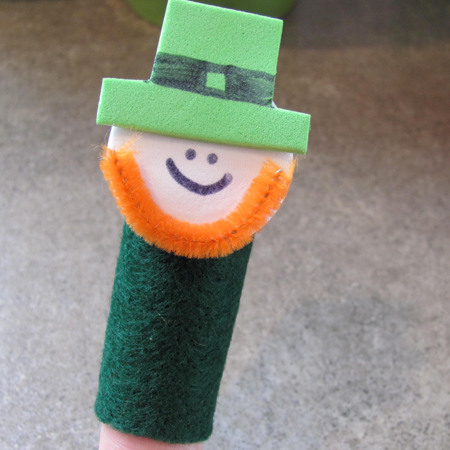 You will need:
Green felt
White craft foam
Green craft foam
Orange pipe cleaner
Glue
Scissors
Black marker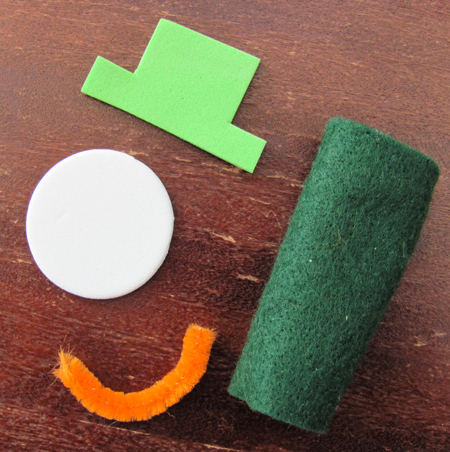 How to make a Felt Leprechaun Finger Puppet:
Cut out the pieces: Body from green felt, head/face from white craft foam, hat from green craft foam.
Glue two edges of the felt body piece to form a cylinder, set aside to dry.
Cut a small piece of pipe cleaner, bend and glue in place to create a beard for your leprechaun.
Glue hat in place.
Using black marker, draw eyes and smile.
Glue completed head on to the upper end of the body piece.
Let dry completely before playing.
Note: you don't need to use craft foam, however, it is one of the easier materials to draw on with a marker.
Download the free felt leprechaun finger puppet template