Poppies have long been a symbol of Memorial Day, a holiday recognized in many parts of the world, honoring our fallen soldiers of World War I. Often times, in the US, we also recognize our lost military from other wars as well as pay tribute to our current members of the armed forces. Memorial Day is a day to remember and recognize those that serve our country and give their lives to fight for our freedoms. The poppy, more specifically the reddish-orange poppy also known as the "corn poppy" is a symbol associated with the poem written by John McCrae, Flanders Fields.
You and your preschooler can make poppies for Memorial Day, directions below.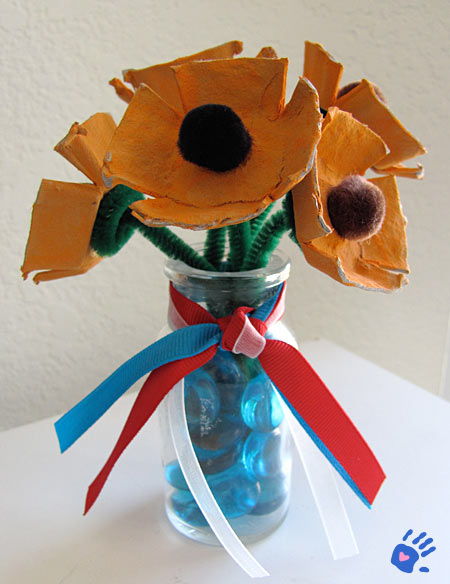 In Flanders Fields
John McCrae, 1915.
In Flanders fields the poppies blow
Between the crosses, row on row
That mark our place; and in the sky
The larks, still bravely singing, fly
Scarce heard amid the guns below.
We are the Dead. Short days ago
We lived, felt dawn, saw sunset glow,
Loved and were loved, and now we lie
In Flanders fields.
Take up our quarrel with the foe:
To you from failing hands we throw
The torch; be yours to hold it high.
If ye break faith with us who die
We shall not sleep, though poppies grow
In Flanders fields.
What you need to make Memorial Day Poppies:
Cardboard egg carton
Orange or red paint
Black or brown pom poms
Green chenille stems
scissors
Glue
How to make Memorial Day Poppies:
Cut out and trim bowl shapes from egg carton.
Snip each of the 4 corners of each bowl and spread out to semi flatten. This is the flower head.

Use an egg carton to make Memorial Day poppies

Paint and let dry.
Glue a pom pom into center of each bowl.
Create spiral from chenille stem and glue on to back of flower head.

Make a Memorial Day poppies bouquet