Since Mardi Gras is all about the celebrating, the party and the yummy treats, I decided we needed something fun to munch on. So, today we made cake mix cookies especially for Mardi Gras. I love making cake mix cookies because they are super quick and easy. They are pretty versatile without having to make sure you have all the cake baking ingredients in your pantry.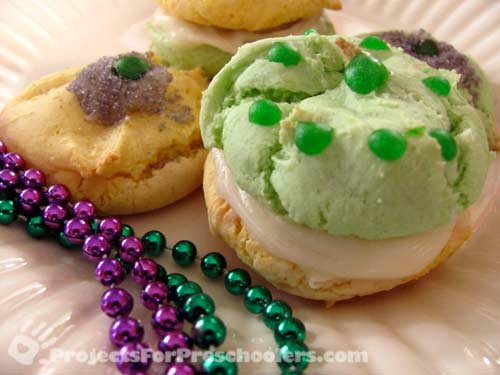 I followed the standard cake mix cookie instructions with the addition of a cream cheese filling and some food coloring, here's how:
Using a plain vanilla/white cake mix, add 1/4 cup vegetable oil, 1/4 cup water and an egg. Mix thoroughly. Divide mixture in half.
Add yellow food coloring to half the batch and green to the other half (purple doesn't bake well).
Drop cookie batter on to parchment paper and bake at 350 for approximately 10 minutes. Let cool.
Add a bit of cream cheese filling between two cookies, one yellow and one green.
Decorate the top as desired. Eat up.
Cream cheese filling:
I didn't measure exactly as I only had a portion of a brick of cream cheese, but this is approximately what I did.
1/4 cup cream  mixed with 3 tablespoons of sugar and 3 tablespoons of powered sugar. Mix well.
For extra decorating fun, I tried to make some purple sugar.  I added it to the top of some cookies by putting a little cream cheese filling and then topping with the sugar. The green beads on top of the cookies is a glitter decorating gel found in the baking aisle at the grocery store. You could use a number of different cookie decorations or leave it plain – the cookies are yummy just the same!