For most, June is the beginning of summer. We plan vacations, older children are out of school, spring sports come to an end and summer sports begin. June is a time to enjoy playing outside and appreciating the warm weather. June is the 6th month and although there aren't many "celebrations", there's plenty of reason to jump up and have some fun.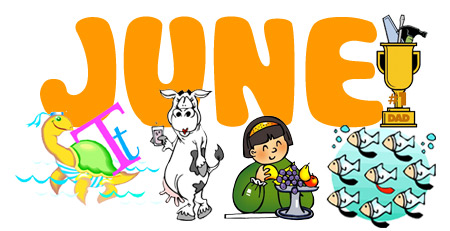 Favorite June events and occasions for preschoolers:
June is…
Dairy Month
National Fresh Fruit & Vegetable Month
Safety Month
Zoo and Aquarium Month
National Candy Month
International holidays:
June 8th – World Ocean Day
June 14th – World Sea Turtle Day
US specific observances:
More March theme suggestions:
Summer
Sports
Animals
Number 6
Shapes Rectangle
Food
Outdoors
Letters J, T, S
More June holiday and event information can be found on the Earth Calendar.