April showers bring May flowers, right? May is a wonderful month full of so many fantastic events, activities and hopefully loads of sunshine. From Cinco de Mayo to Mother's Day, there's a whole pile of things to enjoy and celebrate during the month of May. Many of the specialty observances for May focus on health and getting outdoors. So grab some sunscreen and some excitement to get out of the house and play!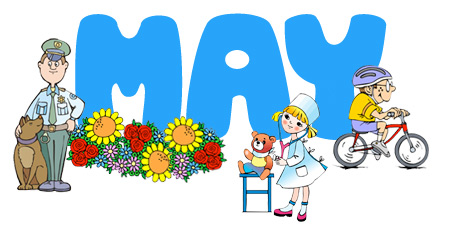 Favorite May events and occasions for preschoolers:
May is…
National Physical Fitness and Sports Month
National BBQ Month
National Bike Month
National Photo Month
National Salad Month
National Egg Month
Asian Pacific American Heritage Month
Week long events and observances:
1st full week of May:
Be kind to animals week
National pet week
National postcard week
Week of the classroom teacher
2nd week of May:
National nurses week
National travel and tourism week
Herb week
3rd week of May:
National bike week
National police week
International holidays:
May 8th – World Red Cross Day
May 12th – International Nurses Day
May 15th – International Day of Families
May 18th – International Museum Day
May 23rd – World Turtle Day
US specific observances:
May 1st – May Day and Save the Rhino Day
May 2nd – Brothers and Sisters Day
May 5th – Cinco de Mayo
May 15th – Peace Officer Memorial Day
May 25th – National Tap Dance Day
Mother's Day – exact date varies from year to year
More March theme suggestions:
Gardening and growing
Number 5
Shapes Triangle
Safety
Health
Letters M, F, G
More May holiday and event information can be found on the Earth Calendar.