The Secret World of Arrietty is an Disney Motion Pictures animated film based on the children's book series The Borrowers by Mary Norton. Borrowers are tiny people that "borrow" items from people to use in their own daily lives. Imagine your every day items being used to furnish a tiny home. Empty spools of thread used as chairs, thimbles used as cups and little clips used to hang an assortment of things.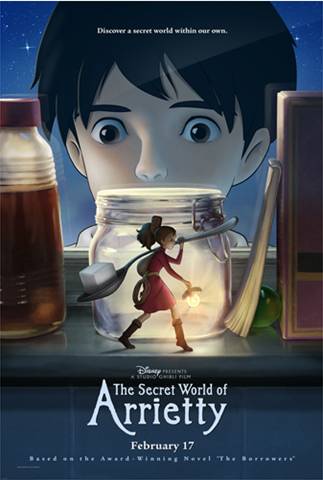 Arrietty (voice of Bridgit Mendler), a tiny, but tenacious 14-year-old, lives with her parents (voices of Will Arnett and Amy Poehler) in the recesses of a suburban garden home, unbeknownst to the homeowner and her housekeeper (voice of Carol Burnett). Like all little people, Arrietty (AIR-ee-ett-ee) remains hidden from view, except during occasional covert ventures beyond the floorboards to "borrow" scrap supplies like sugar cubes from her human hosts. But when 12-year-old Shawn (voice of David Henrie), a human boy who comes to stay in the home, discovers his mysterious housemate one evening, a secret friendship blossoms. If discovered, their relationship could drive Arrietty's family from the home and straight into danger. The English language version of "The Secret World of Arrietty" was executive produced by Kathleen Kennedy and Frank Marshall, and directed by Gary Rydstrom. The film hits theaters Feb. 17, 2012.
Here are some free activity sheets and coloring pages featuring characters from Arrietty.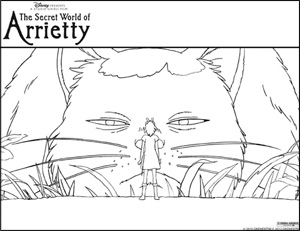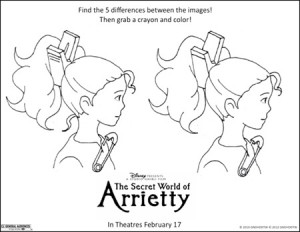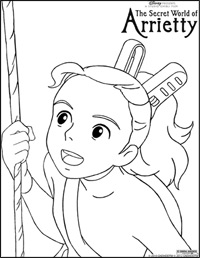 Get inspired by The Secret World of Arrietty. What fun can you come up with based on these tiny people and the things they borrow? Create your own tiny room using every day items. Look around for little objects such as buttons, water bottle caps, clips, paper and other small household items. Talk about what a tiny person could use them for set up a play mat to explore the possibilities.