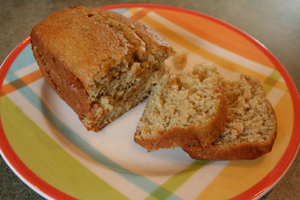 Banana bread is a great snack food for preschoolers that they love to munch on. It's also an opportunity to have some fun together in the kitchen. Let your preschooler help mix and mash and mix some more. They'll love helping make the bread. When it's time to eat, they'll be very excited to get the chance to snack on something they helped to make.
We like to make this recipe with a mini loaf pan so we can eat one loaf fresh out of the oven and save the others for later.
You'll need:
1 1/4 c. flour
1/3 c. sugar
1/3 c. applesauce
2 tsp baking powder
1/2 tsp baking soda
1/4 tsp salt
1 c. mashed ripe bananas (2-3 medium bananas)
1/3 cup margarine or butter
2 TBS milk
2 eggs
1/4 c. chopped nuts (optional)
1/2 tsp cinnamon (optional)

How to make it: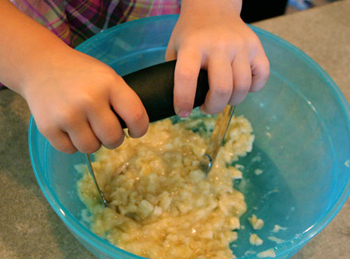 How to make it:
In a large mixing bowl combine 1 cup flour, sugar, baking soda, baking powder, salt and cinnamon.
Add mashed banana, margarine, milk and applesauce.
Beat with electric mixer on low speed until blended, then on high for 2 minutes.
Add eggs and remaining flour.
Stir in nuts.
Pour into greased pan or muffin cups.
Bake at 350 degrees for 55-60 minutes. Check at 45 minutes if using a smaller pan or muffin tin.
Cool on wire rack for 10 minutes.
Serve warm or wrap with plastic wrap to save for later.
Serves approx 16
Hint: While you mix up some of the ingredients, have your preschooler mash the bananas in a separate bowl. If you don't have a potato masher, put the bananas in a big plastic bag and mash it with their hands.