Here's a fun music craft project your preschooler can play with when the craft is finished. Make a guitar (or bango, violin, etc.) out of recycled cracker boxes and cardboard tubes. Your preschooler can help put the entire piece together and then strum a little tune to finish off the show.
Materials you will need:
Cardbord box
Cardboard tube
Rubber bands
Duct tape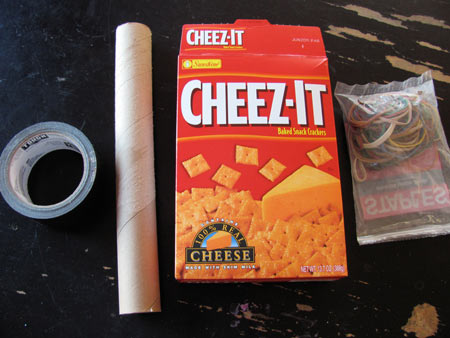 How to make a toy guitar:
Cut holes in cardboard box
Insert tube in top of box and duct tape in place
You could make a variety of different instruments using these simple materials. If you'd like, paint the cardboard before assembling your guitar or decorate with other embellishments like glitter or even hand drawn art. Try making recycled box guitars of different sizes using different types of boxes and compare the sounds they make.
Have fun!
Find creative DIY inspiration with my new book...
Quick and Easy Creativity - Last Minute Gift Ideas
, just in time for gift shopping season! This book is filled with over 20 project tutorials created by 4 different fantastic designers! Fun projects ideas you can make in less than a day. You'll fine a variety of project ideas for kids, adults, families and groups.
Find out more or buy the book.
Comments - I'd love to hear what YOU think!