You can find some really great project materials for preschool projects at the dollar store. Here in Denver we have Dollar Tree and I found some great materials to use in a variety of fun activities. Roam your local dollar store and see what kind of goodies you can find.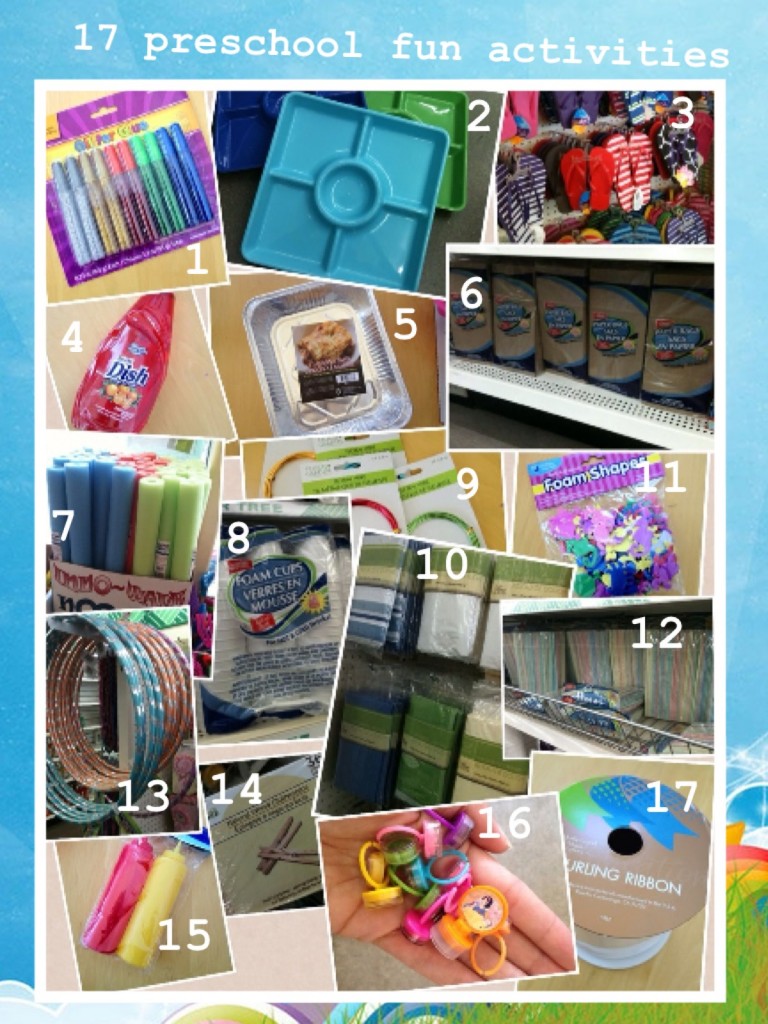 Glitter Glue – you can use glitter glue to pretty up a project or add some sparkle to any project you create.
Divided Compartment Serving Trays – create sorting activities, divide project materials for a specific activity or make up a game to play with your preschooler.
Flip Flops – decorate your own summer fun flip flops.
Dish Soap – make a bubble solution and play outside.
Disposable Roasting Pan – a great container for your dish soap bubble solution. You can also make a mini sand or water play station with these big aluminum pans.
Paper Lunch Sacks – make paper bag puppets, create paper crafts, sort materials or decorate to give a gift to a friend.
Swim Noodles – great for the swimming pool but also great for making a variety of craft projects and games with preschoolers.
Foam cups – fun for stacking, bowling and craft projects.
Floral Wire – use to make bubble blowing wands in a variety of shiny colors.
Foam shape stickers – you can use these in your craft projects or to make your own foam stamps.
Shower curtains – use to cover craft and painting work stations or even your own slip-n-slide outdoor water play.
Bendy Straws – bendy straws always make drinks so much yummier! You can also use straws to make necklaces (with a little yarn) or glue on to crafts. With a variety of colors you could make a sorting game too.
Hoola Hoops – great for play time as well as pretty hoop craft projects.
Clothes Pins – make crafts, hang pictures, even build a tent and hold everything together using clothes pins.
Condiment bottles – great for a fun painting project or water activity.
Mini stampers – these are typically a party favor, but a great addition to your craft box. Perfect for fine motor skill building and crafting at the same time.
Curling ribbon – make signs and banners and hang with pretty ribbon. Use ribbon to decorate art or wrap pretty packages.
The Dollar Tree has a ton of great products just for kids projects, but look beyond the craft aisle to find more ideas you can use with your preschooler. You don't have to use a product for what it's intended, get creative and save some money have fun with your preschool projects.