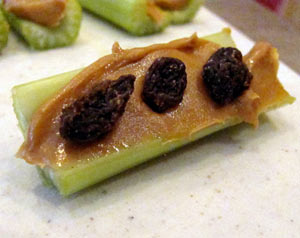 An all time favorite snack for kids is "ants on a log", probably because it's got peanut butter and the threat of actually eating bugs. This is a great snack your preschooler will have as much fun making as they do eating. If there are nut allergies, try replacing the peanut butter with cream cheese or hummus. Ants on a log is also a great activity to practice following steps and fine motor skills.
What you'll need:
Celery stalks
Peanut Butter
Raisins or other dried fruit
How to make ants on a log:
Cut celery into approximately 2″ pieces.
Spread peanut butter into the well of the celery.
Place raisins on peanut butter.
Enjoy!