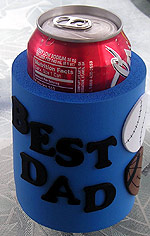 If Dad drinks a lot of beverages from cans, here is the perfect Father's day gift… a custom can cooler. Decorate a foamie can hug with foam letters and shapes, decorate however you like. Dad will love the personal touch and your preschooler will love the masterpiece they've created for their favorite guy.
You can find full instructions to make your own Best Dad can cooler from FamilyCorner.com. This project was designed by Designed by Amanda Formaro.
Variation:
If dad isn't much of a soda drinker, you could take the same concept idea and make a wearable visor instead. Most craft stores that carry the can huggers also carry fun foam visors that can also be decorated. For extra fun, your preschooler can make their own visor so they can wear their stylish gear for Dad's big day too.
Idea: This project would also be a great gift for Dad's birthday.
More fun gift ideas for Dad can be found on the Father's Day Ideas page.