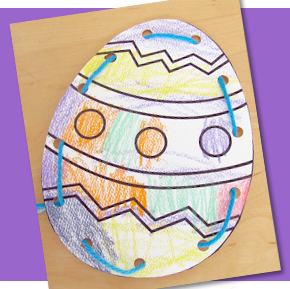 Make your own threading card for an extra fun Easter project. Young kids will enjoy decorating their own egg picture. Talk about colors and shapes as they color their Easter egg. Older children can practice their cutting, hole punching and lacing skills – even try adding extra embellishments like glitter or other cut out paper shapes. If you print out this project on a thicker cardstock these threading cards can easily be used over and over again.
Supplies You Need:
Project print out
Paper cardstock or thicker paper works best
Scissors
Tape
Yarn – approx 1.5 – 2 feet long – allow for a little extra for little hands to mange easier
Crayons, markers or other coloring supply
Make Your Own Easter Egg Threading Card
Print out the project sheet and color as desired
Cut out egg shape – allow your child to cut if they are familiar with scissors
Punch holes along the edge of the egg where the small circle/dots are
Wrap one of the yarn with tape to allow easier threading
Have fun threading!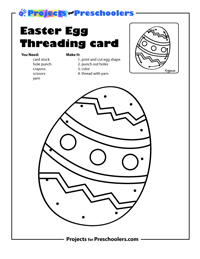 Download the printable file here:
Watch how we made our Easter Egg Threading card: