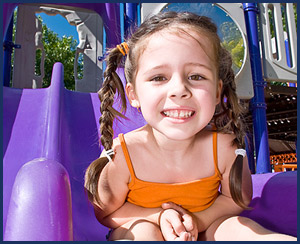 Playing games should be fun for both you and your child. So, it's important to remember to choose games that are not only age appropriate, but skill appropriate. Different kids have different abilities, regardless of age, so make sure to select games for your preschooler that are both fun and challenging but not so difficult that your child becomes frustrated. Here are some great easy preschool game suggestions from Nicola Fourie.
Little kids love playing games. Its a good way for them to learn social skills. These easy preschool games for kids will keep your little ones entertained for hours. They are all time favorites and your kids will keep coming back for more.
Drop the Handkerchief
A ring is formed by the players joining hands, whilst one child, who is to "drop the handkerchief," is left outside.
He walks round the ring, touching each one with the handkerchief, saying the following words:–
"A tisket, a tasket A green and yellow basket, I wrote a letter to my love, But on my way, I dropped it; A little child picked it up And put it in his pocket."
He must drop the handkerchief behind one of the players, who picks it up and tries to catch him before he can run around the ring and jump into the vacant place.
As soon as this happens, the first player joins the ring, whilst it is now the turn of the second to "drop the handkerchief."
Hunt the Slipper
The players seat themselves in a circle on the floor, having chosen one of their number to remain outside the circle.
The children seated on the floor are supposed to be cobblers, and the one outside is the customer who has brought his shoe to be mended.
He hands it to one of them , saying:–
"Cobbler, cobbler, mend my shoe; Get it done by half-past two."
The cobblers pass the shoe round to each other as quickly as they can, taking care that the customer does not see which of them has it.
When the customer comes to get it he is told that it is not ready.
He pretends to get angry and says he will take it as it is.
He must then try to find it, and the cobbler who has it must try to pass it on to his neighbor without its being seen by the customer.
The person upon whom the shoe is found must become the customer, whilst the customer takes his place in the circle on the floor.
Enjoy these easy preschool games!
For 365 surefire ways to keep your kids entertained each day of the year, find more easy preschool games including party games, educational games, dress up games and games for every holiday at http://www.365KidsGames.com
Article Source: http://EzineArticles.com/?expert=Nicola_Fourie