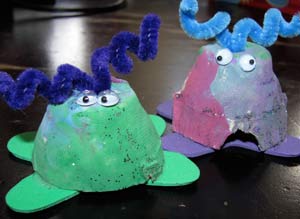 Egg carton aliens are a fun craft you can make with preschoolers. Let them be creative with their painting, even finger painting would work. You can add your own twist by using other embellishments, making arms and even funny faces.
You need:
egg carton, cut out separate pieces (cardboard works much better than the styrofoam)
paint
glue
pipe cleaners
craft foam
Googly eyes
How to make it:
Paint the egg carton piece.
While the egg carton is drying, cut out bottom piece from craft foam in the shape of an X.
Opening side down, punch a small hole in the top of the egg carton (adult help required).
Glue on eyes
Make a two cork screws from 2″ of pipe cleaner each, Insert into hole at the top of the egg carton.
Glue egg carton to X shaped craft foam base.