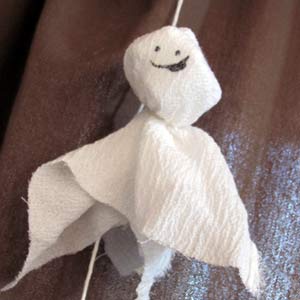 These ghosts are so easy to make with preschoolers and even offer the opportunity for some extra learning. Talk about Halloween, textures, expressions (faces) and counting. You can make a pile of these cute ghosts in no time and at an then use them to decorate around the house.
You need:
white fabric
packing peanuts
string
black fabric pen
scissors
How to make it:
cut squares of white fabric  8″ on each side.
place 4-5 packing peanuts in the center
gather up all 4 corners of the fabric
tie string around fabric creating a neck for the ghost to hold everything in place
using a fabric pen, draw a face on the ghost's head
hang where ever you'd like
Alternatively, use white grocery bags instead of white fabric and ball up another grocery bag in place of the packing peanuts. This is a terrific way to make these ghosts if you plan on hanging them outside.