Guest article from Kelly Wilson – Teaching Resource Center
Thanksgiving is a time for family and friends to draw near and celebrate all that we have to be thankful for. Add a personal touch to your Thanksgiving table and celebration with these five inexpensive and easy-to-finish craft ideas.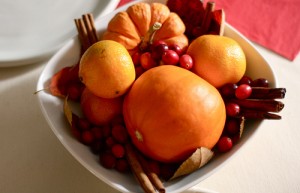 For the Center of the Table
As a natural centerpiece, put the outdoor glory of Autumn on display. Grab a shallow clear glass dish and fill it with leaves of different varieties, sizes and colors – these can be silk or real leaves. Place a large ball or pillar candle in the middle of the leaves, adding a festive ribbon around its center. Gather small pinecones, acorns and berries to sprinkle around the candle, completing the centerpiece.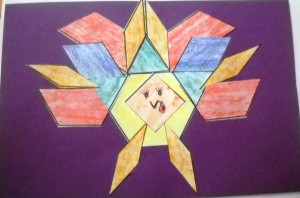 Fun Placemats for the Table
A pattern block turkey made out of printable pattern blocks is a fun twist on the stand-by turkey place mat. Color the pattern blocks or print them on the appropriate colored paper, cut, and arrange the pieces on 12"x12" sheets of cardstock or construction paper to make a geometric turkey. Begin each turkey by gluing down a hexagon for its body, then let your creativity take over!
Another popular placemat idea involves a "Hands and Feet Turkey." On 12"x12" cardstock or construction paper, trace the outline of a child's foot onto the paper and color it brown – this is the turkey's body. Add the turkey's face to the top of the foot with googly eyes and markers. For tail feathers, brush your hand with red, orange and yellow tempera paint and stamp along the top and sides of the turkey's body.
Welcome Your Guests
Hold places at the table for your guests with fingerprint turkey place cards, using rectangles cut from cardstock and a variety of inks in different colors. Stamp your thumbprint horizontally in the center of the card using brown ink. Stamp your other fingers in the different colors around the turkey's body to make the tail feathers, and draw on the face and legs using thin-tipped markers.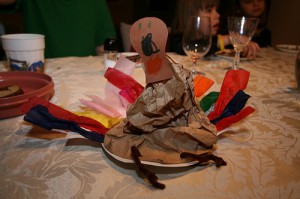 Festive Decorations
Paper Bag Pumpkins and Turkeys are some of the easiest decorations to make for your Thanksgiving table, especially with young children. For this craft, you'll need small lunch-sized paper bags, paper from your recycle bin to use as filling, markers, paints, and yarn or string.
First decorate the outside of the paper bags using paint and/or markers and other craft materials as desired. Once decorated and dry (if you used paint), fill the bag with crumpled paper from your recycle bin, shaping your pumpkin or turkey as you go. Tie off the top with a piece of yarn or string, then finish decorating the outside, adding tail feathers to a turkey or a stem to a pumpkin, then place around your table and home.
A Sweet Surprise
Marshmallow pilgrim hats are a yummy surprise for any Thanksgiving dinner. The base of the pilgrim hats are cookies turned upside down, the bottoms of which are covered in a layer of chocolate. These striped shortbread cookies are sold in grocery stores, or simply cover any cookie you'd like to use with a thin layer of chocolate yourself and pop in the fridge to firm up.
To make the top of the pilgrim hats, cover or dip large marshmallows in a layer of chocolate and place vertically on top of the prepared cookies. Using a thin-tipped cake decorator bag, decorate the base of the marshmallows with white or yellow frosting to make the buckle of the pilgrim hat. The frosting can also be used to "glue" the marshmallow to the cookie.
These fun and inexpensive crafts are sure to add a warm and festive touch to your Thanksgiving celebration!
About the author
Kelly Wilson is an editor for Teaching Resource Center, a teacher store providing families and classrooms with high quality teaching materials for over 25 years.