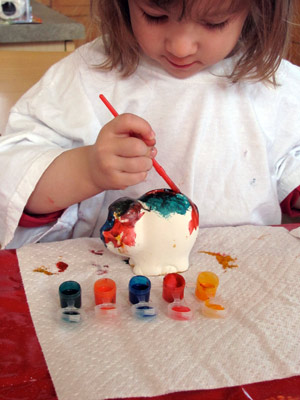 There are some adorable painting kits you can find that your preschooler will love. Go to your local discount store and look for these plaster project kits that include both an item to paint and the mini paint set. Here we've chosen a small plaster piggy bank that came with a set of 5 paints and a paint brush. Often times these kits can be found for under $5.00 depending on the type of kit. You should also be able to find paintable sun catchers, ceramic animals and other great items at a craft store. Online it's a little more difficult finding the discounted kits, so try your local retail stores for great pricing.
Some tips for fun project painting with your preschooler:
Find items that are small enough for your child to manage on their own.
Provide plenty of water and paper towel for brush cleaning as your child paints and change colors.
Have your preschooler wear a paint sure to protect clothing.
Cover the painting work space with some kind of paper or plastic to protect the area from paint spills. We live to use a vinyl table cloth.
make sure there is plenty of room to work.
Small paint kits or kids craft kits are a great project to have your child make and then give as a gift. They'll not only love the activity but love to share it with someone special too.