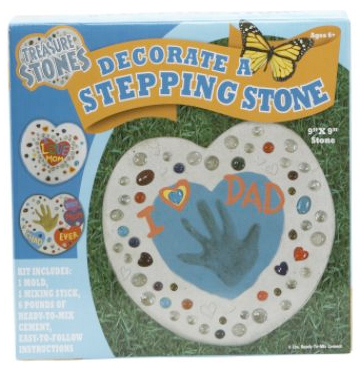 Creating a handmade stepping stone for the garden is a fun project that even the smallest of hands can help with. The neat thing about stepping stones is that you can place them outside near the kid's play area or in a special garden space so they can enjoy their own creativity time and again. Stepping stones make wonderful gifts for Mother's day, Grandparents' day or birthdays too!
To make your own garden stone, you will need:
Stone concrete mix
Plastic mold
Mixing bowl
Mixing stick or spoon
Marking stick (if you want to carve words or shapes into wet the concrete)
Accessories or embellishments (small stones, mosaic pieces, sea shells, etc.)
Before you mix the concrete:
Put embellishments in bowls within easy reach of the project space.
Cover work space with plastic or newspaper.
Have extra paper towels to clean up space and hands as you move along.
Making your stone:
Follow instructions on the concrete mix or stone kit.
Add hand prints or writing first.
Add your accessory stones and other pieces.
The thin coat of concrete that may cover some accessories can be wiped off with a wet cloth later.
Let dry as per the instructions.
The concrete hardens pretty quick, so make sure you and your preschooler are all ready to decorate your stone soon after pouring the mold.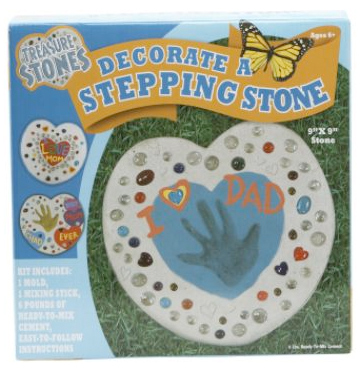 Heart Treasure Stepping Stone Kids Craft Project Makes one 9″D stepping stone. Includes one mold, one mixing stick, 6lbs of ready-to-mix-cement and easy-to-follow directions. Imported.