Not far beyond the quaint little garden scenes that begin to bloom as summer approaches, lives a fun film suitable for the whole family: Gnomeo & Juliet. From a director of Shrek 2, and featuring fun, all-new music by Sir Elton John, this film features a quirky, family friendly twist on Shakespeare's classic story, Romeo and Juliet.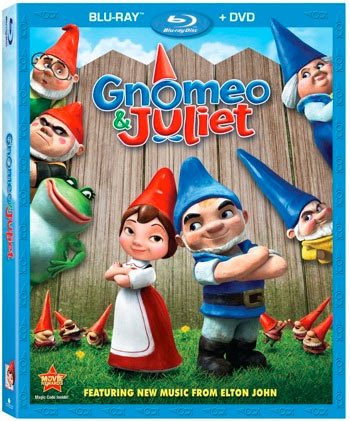 The characters are fun and engaging, the storyline is entertaining. Preschoolers giggle right along side their older siblings and there's enough humor to inspire laughs from the adults too. This movie is silly fun the entire time and captures a joyful side of the classic Romeo and Juliet. Not only is the tragedy of the story left behind, Shakespeare himself makes a few appearances just to clarify where the story should go. Gnomeo and Juliet is definitely worth watching more than once, in my opinion.
"Makes you smile from start to finish."
Kenneth Turan, Los Angeles Times
"It's family-friendly fun."
Ashley Muldoon, OK! Magazine
This animated movie first hit theaters in February 2011 and is now available on Blue-ray and DVD combo pack.
NOW AVAILABLE:
Blu-ray™, Blu-ray 3D™, DVD, Movie Download & On-Demand
Only On Blu-ray For Fans To Enjoy:
Two Really Cute Alternate Endings, Two Alternate Openings, Six Deleted Scenes and More!
Videos:

Bonus Clip- Frog Talk With Ashley Jensen


Film Clip- Featherstone:


Film Clip- Damage


Here are three printable activities for kids featuring the Gnomeo and Juliet characters and scenes.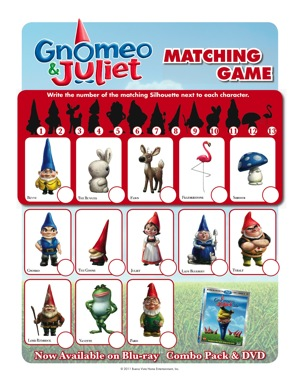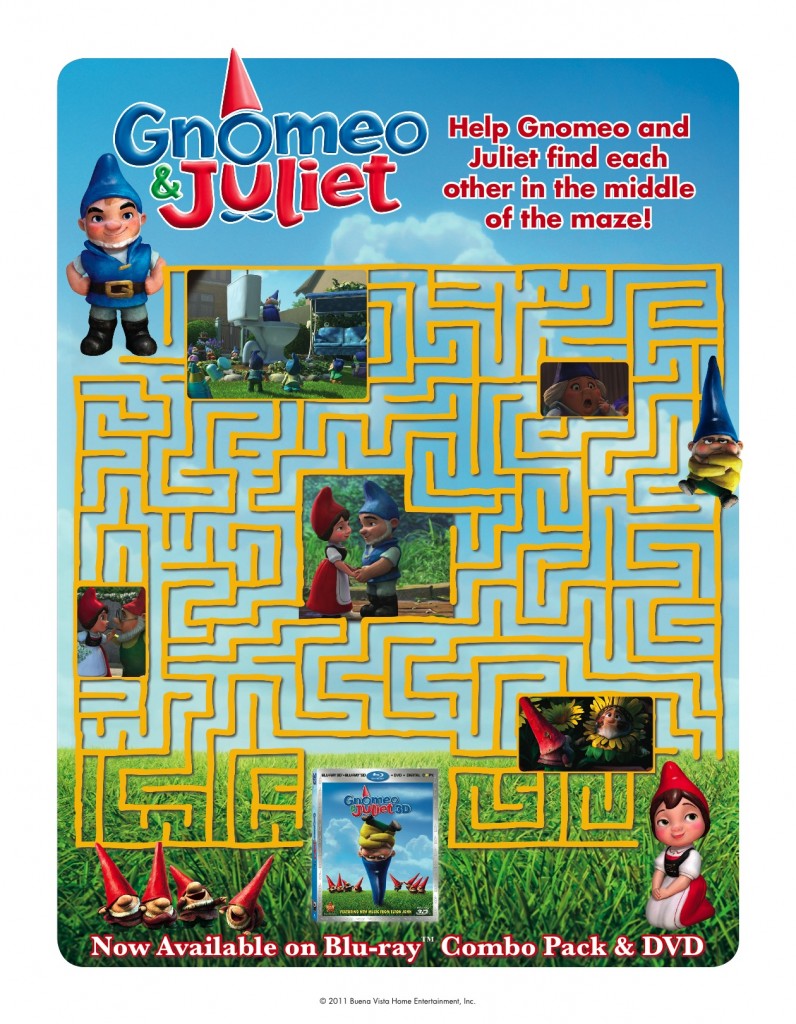 GNOMEO & JULIET is brought to life by the extraordinary voices of Golden Globe nominee James McAvoy (The Chronicles of Narnia: The Lion, The Witch and the Wardrobe) as Gnomeo; Emily Blunt (The Devil Wears Prada) as Juliet; Academy Award winner Michael Caine (Inception) as Lord Redbrick; Jason Statham (The Trasnsporter franchise) as Tybalt; Ashley Jensen (TV's Ugly Betty) as Nanette; Patrick Stewart (X-Men franchise) as William Shakespeare; Ozzy Osbourne (TV's The Osbournes) as Fawn and Maggie Smith (Harry Potter franchise) as Lady Blueberry.
Bonus Features:
DVD & Movie Download:
• Elton Builds a Garden
• Frog Talk with Ashley Jensen
• "Crocodile Rock" Music Video, featuring Elton John and Nelly Furtado
Blu-ray:
• DVD Bonus plus:
• 2 Alternate Endings with Filmmaker Introductions
• Deleted & Alternate Scenes with Filmmaker Introductions, including:
o 1 Alternate Opening
o 1 Alternate Scene
o 6 Deleted Scenes
• The Fawn of Darkness, featuring Ozzy Osbourne
I was provided a free DVD/Blu-ray copy of this movie to review. The opinions I have shared are my own.