Summer if full of activity from swim lessons and planned outings to family travel and vacation. Sometimes we get so caught up in all the busy schedules we forget that little every day activities can provide a nice break to the hectic activities as well as an opportunity to just enjoy playing. Simply changing up the routine or taking a moment to appreciate some down time will help keep that summer fun from fading too fast.
Here are 5 budget friendly playtime ideas your kids will love.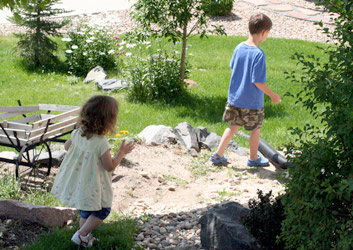 Picnic in the park
Although you might have a play set in the backyard, kids love to make a trip to the neighborhood park. Pack up a lunch and head for the swings.
Movies make happiness
Early afternoon movies in the middle of the work week are less crowded and less expensive as well as a nice alternative to those hot summer days.. Check AMC theaters with showtimes before noon for super great rates.
Cook up a treat
Whipping up a little treat or making dinner together is a great way to spend some family time. Our personal favorite is banana bread mini muffins; they're quick, easy and make a scrumptious snack that will get gobbled right up. The kids especially love to smash those darn bananas! (Add 1/3 cup applesauce and a dash of cinnamon to make this recipe even better.)
Get crafty
From forts in the living room to mud pies or finger painted masterpieces, kids are always ready for creating. Take this enthusiasm on an adventure to the craft store. We like to wander around the store for about an hour to see the fun project supplies and gather ideas. Then we usually pick up a new craft project to make at home.

Explore the tiny wilderness
Bugs are everywhere right now, especially lady bugs, rollie-pollie bugs and dragonflies (and spiders – eek!). Most kids adore these little critters and they're probably all creeping around right in your own backyard. So, put on your walking shoes and head out on an outdoor adventure of your local neighborhood "wildlife".
Summer can get hectic really quickly with all the things we try to squeeze in. It's important to remember to stop and enjoy every day activities once in a while and allow ourselves and our kids to just have fun and play. We want to keep the kids busy and happy, but sometimes a little downtime at home can do wonders for the summer fun adventures.