Make a pretty angel picture using your preschooler's handprints as the wings. This art project would make a lovely holiday decor piece or an image to use on your family Christmas cards! We used a large 11×14 size piece of construction paper for the background to make sure there was enough room to create the handprints, however you could use a smaller piece of paper if you'd like.
Cut out the angel head, skirt, hair and feet from white construction paper and color or use colored construction paper. Accent the finished angel with glitter or other pretty embellishments.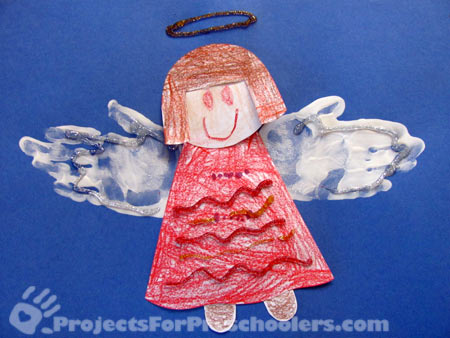 Materials you need:
Construction paper
White paint
Crayons
Scissors
Glue
Extras such as glitter glue or yarn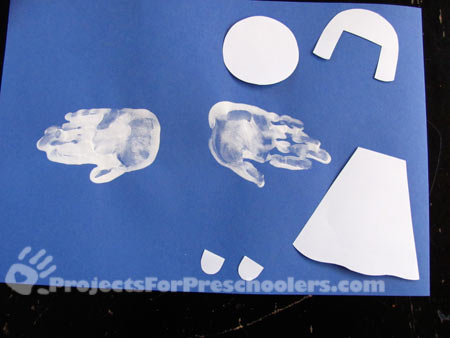 How to make your own handprint angel art:
Using paint, make handprints on a large piece of construction paper, let dry.
Cut out angel head, dress, feet and hair (you could use yarn for hair instead of a paper cut out). Color pieces as desired.
Assemble angel and glue in place.
Draw a halo above the angel's head.
Add glitter or other accessories as desired.
Tip: when making the wings with handprints, make sure your preschooler's hand is tight together and straight. You can make the wings with thumbs on top or the bottom, either way. It just depends on which look you prefer.
Extra creative fun: You could also cut out the finished angle and hang up to display.
You can personalize your handprint angel however you like. Use fabric instead of paper, paint instead of coloring with crayons… whatever you'd like. We like adding our hair separate so an adult can cut the style/shape and kids can easily color as they'd like. We added the extra touch of glitter on the wings and a sparkly glitter glue halo.