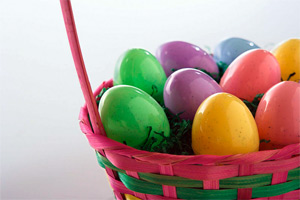 Guest post by Kelly Wilson
Easter baskets are a fun and traditional way of celebrating the holiday. They can also, however, overwhelm kids with sugary treats that are ultimately not good for them. These healthy Easter treats will help you and your children make the most of your family's time together.
Treats for Hunting and Snacking
Instead of buying products high in refined sugar, consider packaging your own healthy Easter treats. Use small cellophane bags to hold a variety of delicious snack options, putting them in medium to large plastic eggs for a traditional Easter egg hunt. Some of these healthier alternatives include:
Chocolate and Yogurt Covered Raisins, which are egg-shaped and perfect for the Easter season
Dried fruit, such as cherries, blueberries and mango
Bunny Trail Mix – Combine Chex (or a similar low-sugar cereal), small pretzels, nuts like almonds or peanuts (be aware of food allergies), raisins or other small pieces of dried fruit, and jelly beans
Bunny-shaped crackers or fruit snacks, like those produced by Annie's Homegrown
No matter what treats they receive during Easter, make sure to monitor their intake, activity level and dental hygiene to avoid any harmful effects.
Treats for Your Brain
Not all Easter basket treats need to be food-related. Provide some learning treats that you can work on with your children.
Instead of candy, fill plastic Easter eggs with coins or folded dollar bills and practice sorting and counting money when the eggs have all been opened
Include small books, magazines, or comic books
Contribute Easter-themed bookmarks, pencils, erasers or stickers
Incorporate a small travel game or puzzle
A variety of items like these can provide fun, family-centered time during your Easter celebration and beyond.
Focus on Creativity
Use the Easter holiday to focus on spending time together as a family. These products can include containers of bubbles with a variety of wands, sidewalk chalk, store-bought or homemade play dough, or a set of brushes and paint with watercolor paper. Then head outside (or in the garage if it's raining) to create your own works of art.
More important than candy, these healthy alternatives for filling your child's Easter basket can bring your family together for a fun Easter celebration!
About the Author
Kelly Wilson is a busy mom and freelance writer. For more information about raising healthy children inside and out, contact a dentist in Longview, WA at Smiles Dental.