Sometimes it IS ok to play with your food! Have you seen all the fun creations using hot dogs and noodles? We've seen spiders and an octopus which were really pretty cool, but we didn't get a chance to try to make them ourselves until now. We decided to see what we could make, so we set out to create whatever we could. We had a hot dog and noodle art day! This is a great activity for preschoolers to explore different textures and fine motor skills.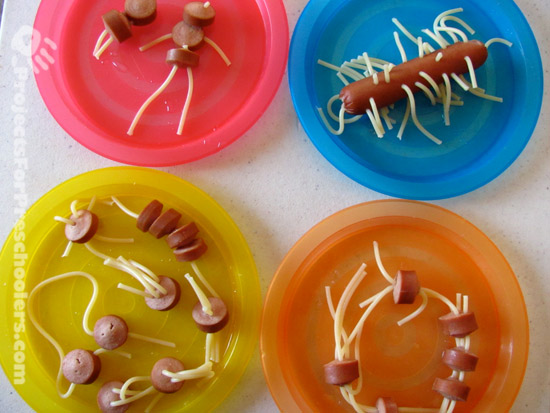 How to make your own hog dog and noodle art:
The only materials you need are uncooked, cold hot dogs, spaghetti noodles and your imagination.
Insert noodles into hot dogs – you can make the noodles different sizes and you can make the hot dog pieces different sizes to create a bunch of different sculptures and creatures.
Once you and your preschooler are finished creating your art pieces, put them in a big pot of boiling water and cook until the noodles are soft (grown ups only please).
Check out all the fun we created. We made hot dog and noodle people, weird creatures and fancy little sculptures.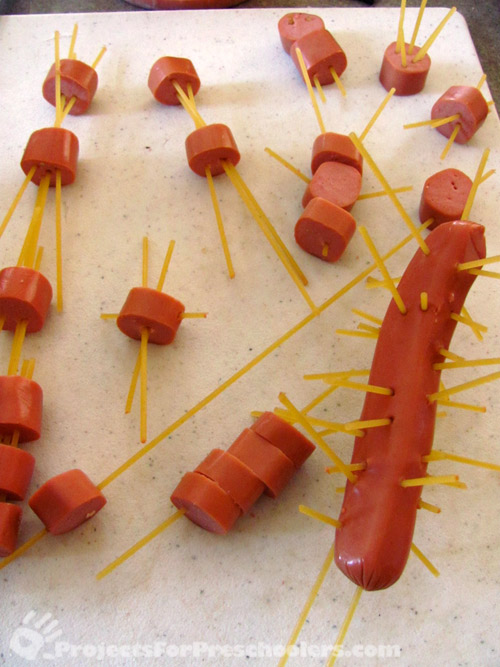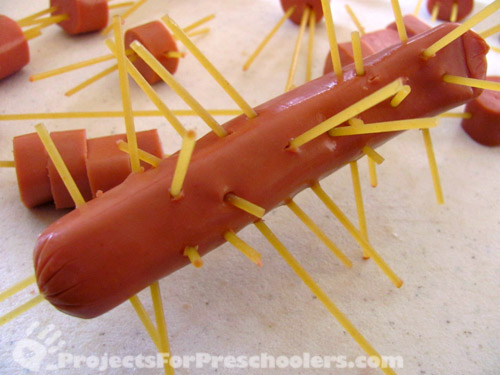 We built some pretty neat sculptures with our noodles and hot dogs. The poor hot dogs, there were noodle everywhere! We used whole noodles, broke noodles into tiny pieces and doubled up on noodles. It was a ton of fun to see what we could make.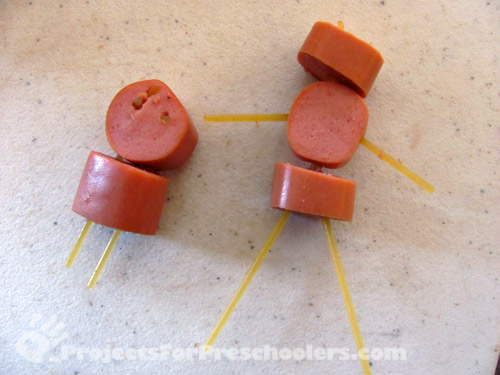 See the little tiny eyes in the baby hot dog person? My preschooler made a whole army of these funny little people.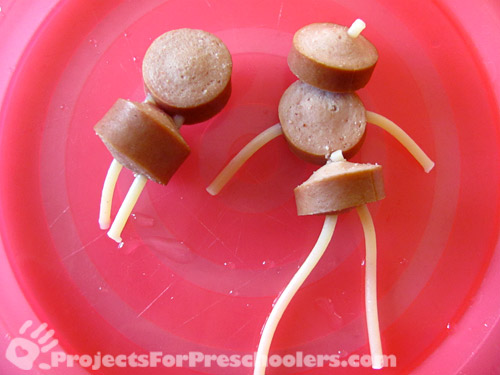 We cooked our hot dog art just long enough for the noodle to get soft. However, we discovered that the portion of the noodles inside the hot dogs wasn't soft. You might want to experiment to find the right cooking time for you. Get going, go play with that food!
What fun food art have you created? I'd love to hear about it!