Felt is always nice and cozy, so what better time of year to pull out the felt than in the winter to make a snowman? Cut out shapes that your preschooler can use to "build" their own pretend snowman. Talk about circles and faces and weather… snow and winter and all that holiday cheer. I glued the faces on a few circles so the snowmen heads were already ready to play with.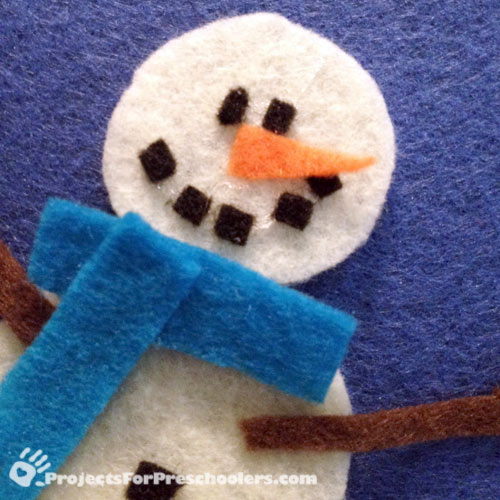 Materials you need:
Felt in a variety of colors
Scissors
Glue (any glue is fine, I used Beacon Adhesives 3-in-1… it's awesome!)
Imagination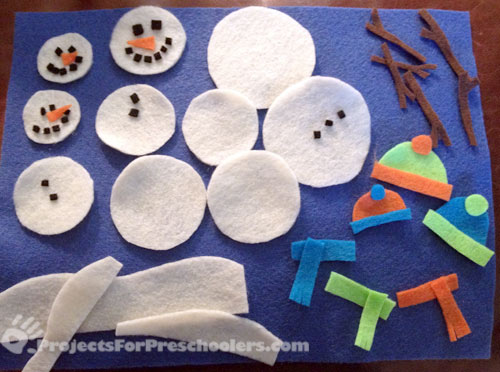 To make your felt snowman playset:
Set one piece of felt aside to use as the play mat. I used blue.
Using white felt, cut out a variety of circles in different sizes.
Using black felt, cut out small circles or squares to use as eyes, mouth pieces and even buttons.
Use orange felt for carrot noses (triangles)
use other felt colors to cut out hat shapes, scares and other fun accessories
Use brown to cut out stick shaped arms.
If you'd like, use the left over white felt to make piles of snow.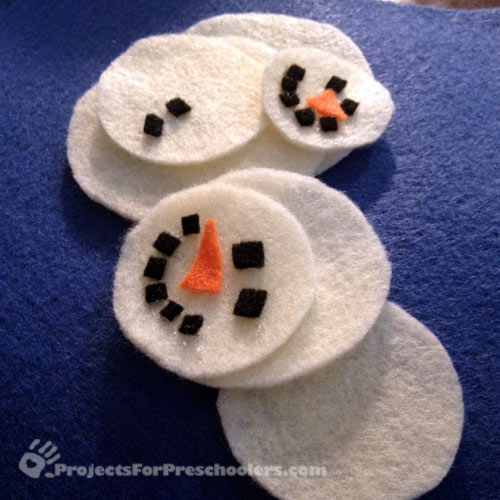 You can layer the felt to make multiple colored hats and scarves too if you like. Make sure to glue the pieces together (example: all the pieces for a hat, glue together, to make one complete hat). Glue all the small pieces where they below so you don't lose all the eyes or buttons but your preschooler can still enjoy playing with these winter friends.
Now your play set is ready to go! Show your preschooler how they can layer the different sized circles to build their snowman, add a hat and scarf and then build more snow people friends.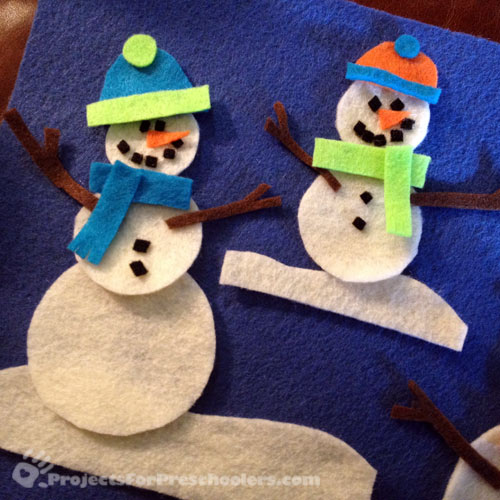 You can add a pocket to one side of the felt playmat. When it's time to pick everything up, the pieces just fit nicely inside the pocket, then roll up the mat and tie with a ribbon!
This would make a great gift for a preschooler too!