Here's a Christmas craft you can do with your preschooler that makes great gift tags or art cards you can gift as a gift. Yarn is a fun material for preschoolers, combine it with glue and they can create really neat art pieces that help practice fine motor skills and coordination. You can also use this project idea to make other shapes with the yarn for activities all year long. Bonus: in addition to talking about textures and colors this activity can be used to talk about shapes.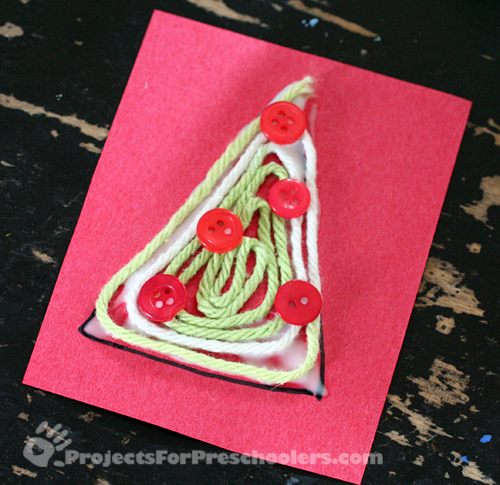 Materials you need:
Construction paper or card stock
Yarn
Glue
Scissors
Pencil
Glitter glue and Buttons (optional)
How to make Christmas Tree Art Cards with Yarn
Cut out a small piece of cardstock. The cards we made were approximately 3″ wide by 4″ tall.
Draw a triangle on the card.
Cut pieces of yarn, approximately 12-18″ long. Any longer and the pieces might be difficult for your preschooler to manage as they make their art. Feel free to make the yarn piece shorter if you'd like.
Spread glue all around the inside of the triangle.
Place the yarn around the inside of the triangle, pressing onto the glue. Cut excess yarn as desired.
Add extra embellishments such as glitter glue dots or buttons for decoration. (Optional)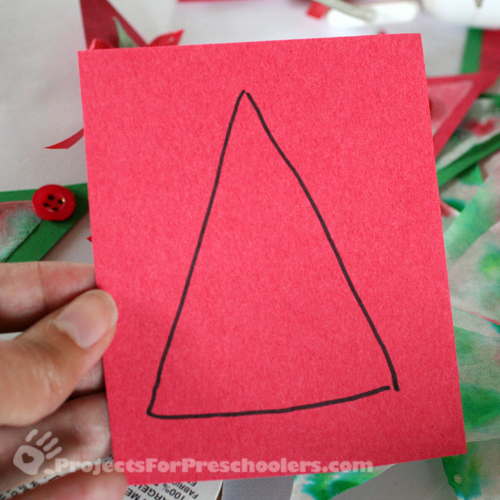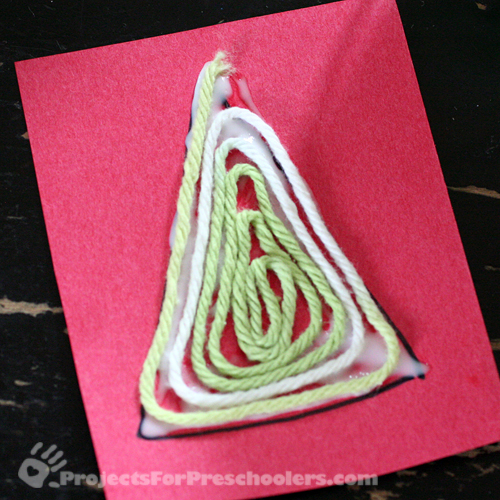 You can change up this Christmas Tree art in so many different ways, each unique and fun. Consider using two pieces of paper, one cut a little larger and layer them for a different look to the cards. You can also add glitter or ribbons to the border of the cards once you've placed the yarn. If you'd like to make your Christmas Tree Art Cards into gift tags, simply use a hole punch at the corner of the card and tie a ribbon through it.
Happy Crafting!