Here's a quick ghost craft you can do as a Halloween party kids craft or to make your own spooky decor. You can make these ghosts with just paper and tape, or add your own extra touch by coloring or painting with glitter or even some glow-in-the dark paint. We taped a glow stick inside to make our floating ghost glow.
Materials you need:
White paper
Black marker
Tape (or glue or stapler)
Ribbon
Scissors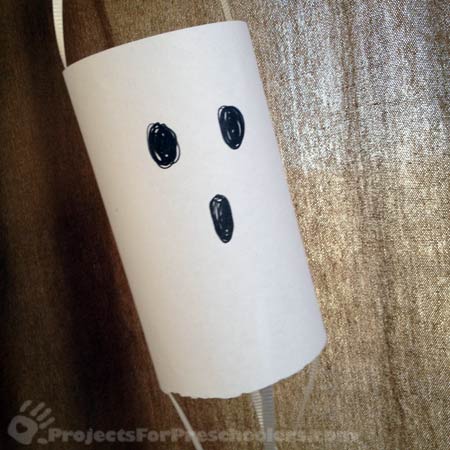 How to make a floating ghost:
Draw a ghost face on the white paper.
Form a tube with a piece of white paper. You can make the tube shorter and "fatter" by cutting the paper down in size.
Use tape to attach the sides of the tube together. You can also use a stapler instead.
Tape pieces of ribbon to the bottom of the tube. To make a handle to hang your ghost, tape a ribbon loop on top of the ghost.
To make your ghost glow with a glow stick, activate your glow stick and then tape it inside the ghost tube.
Optional materials: you can use a variety of different materials to make your paper ghost. Use party streamers or toilet tissue instead of ribbon for the ghost tails. Use black crayon or cut out and glue black paper for eyes and a mouth. This ghost project is very versatile and you can easily adapt it for whatever materials you already have around the house.
Id' love to hear what you do with your floating paper ghosts!