Let me first share my biased opinion… I LOVE Wreck-It Ralph! Wreck-It Ralph is an animated film from Disney that will make you laugh throughout the entire movie! It's a fantastic movie full of action, adorable characters and a theme the kids will love… video games! But these aren't your sit at home on the couch video games. These are the old school big arcade games we played all the time back in the 80s and 90s with a modern character appeal.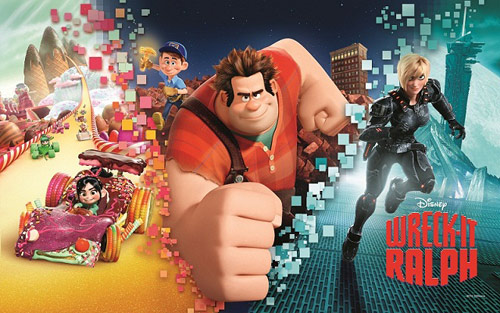 I found myself laughing over and over. The whole movie is filled with snippets of pop culture and funny little comments that will just make you giggle. And best of all, this movie is great for both boys and girls. Ralph is a big burly kind of character that runs around wrecking things and his side kick in this film is Vanellope, an adorable and somewhat snarky little girl that lives in a game full of pink puffy candy. It's far more girly than I expected, but not too girly for the boys to enjoy…. there are bugs and tough guys in armor too! (The Donut officers are some of my favorites).
Although Wreck-It Ralph is rated PG, it is kid friendly for all ages in my opinion. There are few animated movies that kids of all ages will love. Most seem to have a target age, but I found Wreck-It Ralph to have something for everyone.
Young Kid Warning: If your preschooler is sensitive to "scary" scenes. There are a few scenes that focus on a "kill the alien bugs" type video game that might startle a bit. They are short scenes and not a main feature in the movie. There's also a zombie you may have seen in the trailers – he's more of a funny character than a scary zombie guy.
Language Warning: While this movie does not have adult language, there are some language choices that might not be appropriate for some viewers. It's "kid smack" type verbiage that young kids might not have picked up on yet. If you are ok with  language concepts used in animated series such as Sponge Bob, this movie will not be an issue for you. Check out the trailers to get a better idea of the language.
Wreck-It Ralph is definitely
on my favorite animated movie list!
I love that it' an original story line we haven't seen before. It's full of great messages: try your best, work together, strive to be your best. The characters are terrific and the artwork is absolutely delightful! I saw this movie during a screening and am absolutely excited to go see it again!
Meet some of the characters: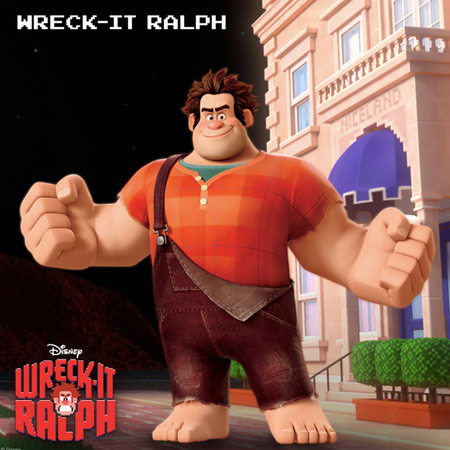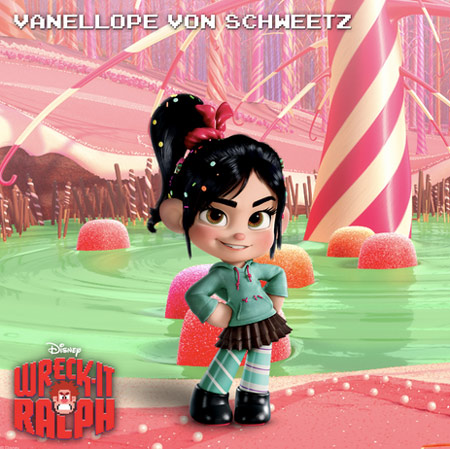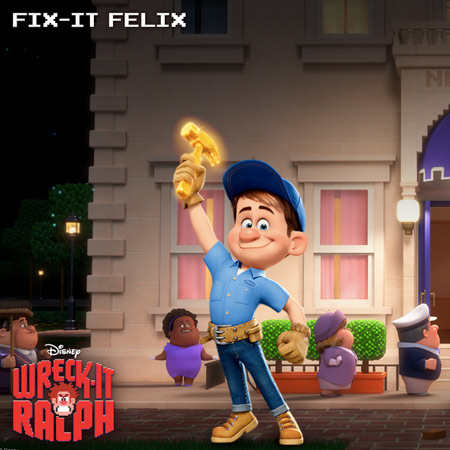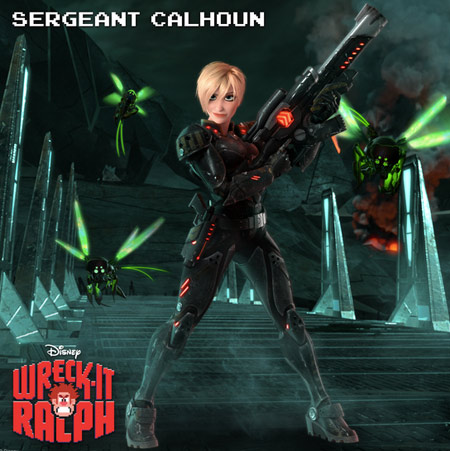 Here are a few trailers to give you a better idea of what this movie has in store for you.
Meet the Wreck-It Ralph characters (and some of the voices behind them)…
A bit of everything I love about Wreck-It Ralph…
This trailer contains a good glimpse of anything you might have concerns about…
Check out more Wreck-It Ralph videos
Wreck-It- Ralph Activities:
Overview of Wreck-It Ralph:
Rating: PG
U.S. Release Date: November 2, 2012
 
Voice Cast: John C. Reilly, Sarah Silverman, Jack McBrayer, Jane Lynch, Alan Tudyk, Mindy Kaling, Joe Lo Truglio, Ed O'Neill, Dennis Haysbert, Adam Carolla, Rachael Harris, Edie McClurg, Horatio Sanz, Stefanie Scott
 
From Walt Disney Animation Studios and Emmy®-winning director Rich Moore comes "Wreck-It Ralph," a hilarious, arcade-game-hopping adventure. For decades, Ralph (voice of John C. Reilly) has been overshadowed by Fix-It Felix, Jr. (voice of Jack McBrayer), the good-guy star of their game who always gets to save the day. Tired of playing the role of a bad guy, Ralph takes matters into his own massive hands and sets off on a journey across the arcade through multiple generations of video games to prove he's got what it takes to be a hero.
 
On his quest, Ralph meets tough-as-nails Sergeant Calhoun (voice of Jane Lynch) from the first-person action game Hero's Duty, and feisty misfit Vanellope von Schweetz (voice of Sarah Silverman) from the candy-coated cart-racing game Sugar Rush, who may just be his first real friend. But everything changes when a deadly enemy is unleashed, threatening the entire arcade and Vanellope herself. Ralph finally gets his chance to save the day—but can he do it in time? "Wreck-It Ralph" crashes onto the big screen on November 2, 2012, in Disney Digital 3D™ in select theaters.
More Wreck-It-Ralph
Website: Disney.com/wreck-it-ralph
On Facebook: facebook.com/WreckItRalph
On Twitter: twitter.com/disneyanimation