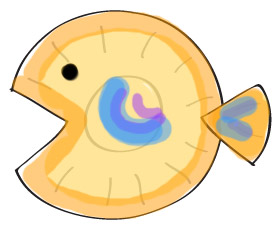 Make a fun fish with your preschooler. They can decorate it any extra embellishments you have on hand. Make a bunch of fish and decorate a wall in their room or hang with yarn from the ceiling to create a fun underwater scene.
What you need:
Paper plate
Markers, crayons or paint
Scissors
Glue or Tape
Extra decorating supplies (optional) – glitter, stickers, stamps, etc.
How to make a paper plate fish:
Place the plate flat on a work surface.
Cut a pie-shaped wedge out of a paper plate, equal to approximately an eighth of the plate.
Using either tape or glue, attach the wedge shape to the opposite side of the plate, with the wide end facing away from the plate.
Decorate!
Project idea from Love to Know