I love making cards and gifts featuring my kids art and creations, however it can be a daunting task to hand make every card if you want to send to the whole family. Not to mention, keeping little ones focused to make all those greetings is a challenge in itself. Instead of creating an entirely original piece every time, consider re-purposing and reproducing your favorite kid art pieces and hand embellishing to make a unique gift or greeting. Have your preschooler help you create these fabulous little cards.
I've shared a simple tutorial for making your own handmade greetings by scanning art on my design blog, JGoode.com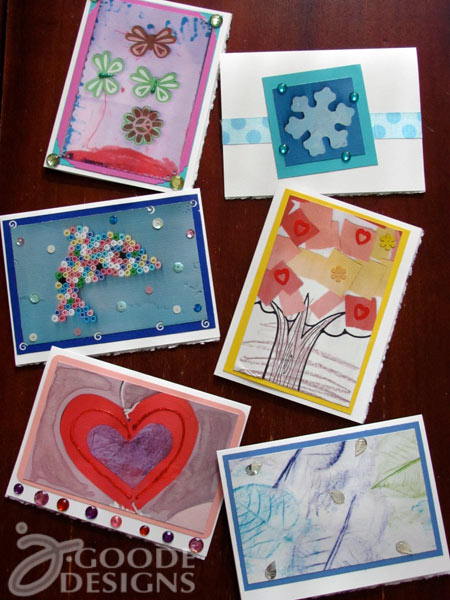 Materials you need:
Kids art
Scanner
Glue
Blank cards
Assortment of embellishments such as gems, glitter, stickers, ribbon and accent papers
To make your own hand made cards with kids art:
Scan, print and cut out the art to fit the cards you are using.
Glue the art onto the blank cards. If you'd like the framed or layered look, glue on to simple background papers.
Add embellishments.
Add your message and send with love.
You can use this same process for making hand made art gifts, or other neat projects featuring your favorite preschool art pieces. Think about using this to create unique birthday invitations, thank you cards and an array of other greetings as well. The best part is that your preschooler can help you throughout the entire process.