Have you ever played with Magna-Tiles? We got our first look at these fun building toys when we visited the Children's Discovery Center in Topeka this past summer.We absolutely love building toys and these are no exception. Magna-Tiles are easy for preschoolers to hold and connect and offer tons of great imaginative and problem solving play. So when I was asked if I would review Magna-Tiles for Steve Spangler Science, I jumped at the opportunity.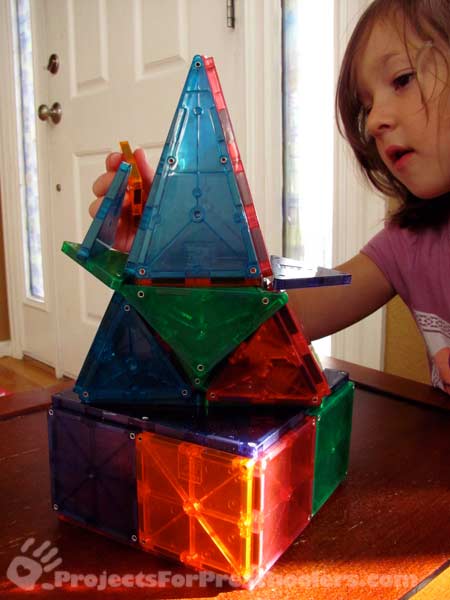 Magna-Tiles are geometric shapes made of plastic with magnets built into the edges. When you touch the edges of different pieces together, they connect. The pieces are big enough to be safe for young kids yet fun for older kids as well. The kit we received comes with 32 tiles in brightly colored translucent plastic. There are triangles and squares you can mix and match to create a whole array of different structures and flat shapes. Your preschooler can build, play matching and sorting games and explore how light reflects through the pieces.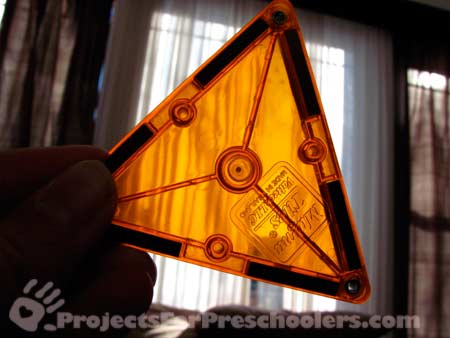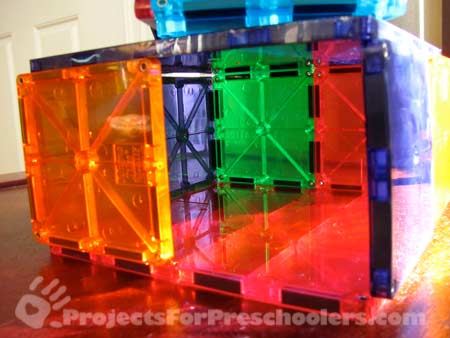 Because the connectors are magnets, it's fun to explore the reactions. When you think two edges are going to connect one way, the magnets sometimes have a mind of their own and surprise you! Your preschooler may also discover they need a gentle hand when playing with these fun tiles, there isn't a tight connection, only that of a magnetic attraction. So, too abrupt of a move and the whole tower might come crashing down.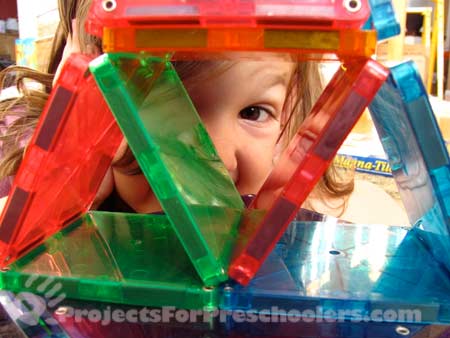 If you'd like your own set of Magna-Tiles from Steve Spangler Science, here's a discount coupon code for you…
Toys11-PP  10% off an order of $50 or more.
Discount valid through 12/24/11.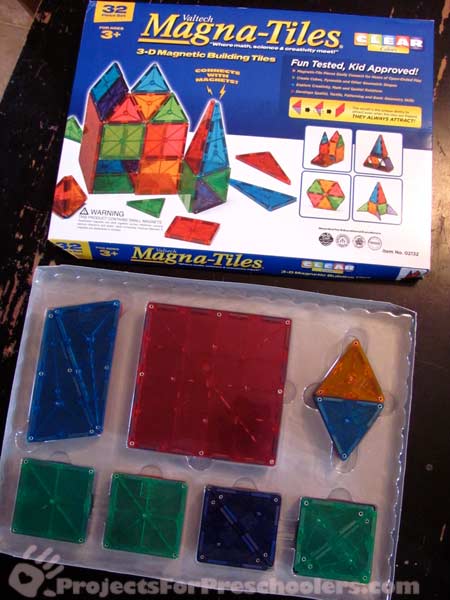 We really have fun exploring how triangles combine to make squares and rectangles. We also loved the translucent colors and watching the way light would shine through and reflect off the pieces. Magna-Tiles are great for both boys and girls and designed for kids ages 3 and up, however unless magnets are an issue, I think even your two year olds will enjoy exploring with this fun toy.
for more science fun, make sure to follow Steve Spangler Science on Facebook and Spangler Science on Twitter.
Disclaimer: I was provided this product to review. The opinions and images shared at entirely my own.