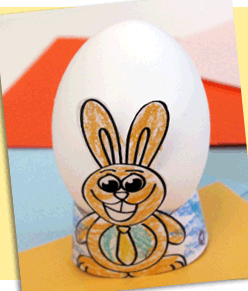 Easter egg holders are a fun way to display your Easter eggs with or without coloring the eggs. This project shows you how to make your own cute Easter bunny egg holders, we even provide the print and color picture pattern for you!
What you need
project print-out
cardstock or thick paper works best
scissors
clear tape
crayons, colors pencils or markers
How you make it
Print out the Easter Bunny Easter Egg Holder project sheet
Color the two bunnies and the horizontal rectangle behind each
Cut out each picture keeping the rectangle attached to the bunny (you should only have two cut outs when you are finished)
Using only one of the bunny pictures, wrap the rectangle so that the lines on both the right and left match up. Make sure your egg will not fall through the hole before you tape the paper in place.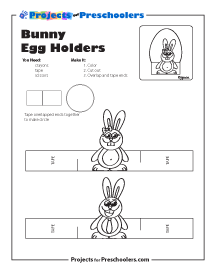 Print out the project page for the
Easter Bunny Easter Egg Holder

Check out more fun Easter projects for Preschoolers