This post is sponsored by Country Crock. I was selected for this opportunity as a member of Clever Girls Collective, and the content and opinions expressed here are all my own.
A lot of kids seem to have a natural dislike for vegetables. I don't know if it's the color, taste or sometimes our own dislike mimicked by our kids. I happen to have kids that love salads and most cooked veggies, but that's not always the case with all families. Now here's some fun food projects you can make and eat featuring our yummy veggie friends. Clare Crespo has put together a FREE cookbook full of delicious, step-by-step vegetable recipe projects kids are sure to love to make. When they make it themselves they might just be more willing to taste it AND agree it's good.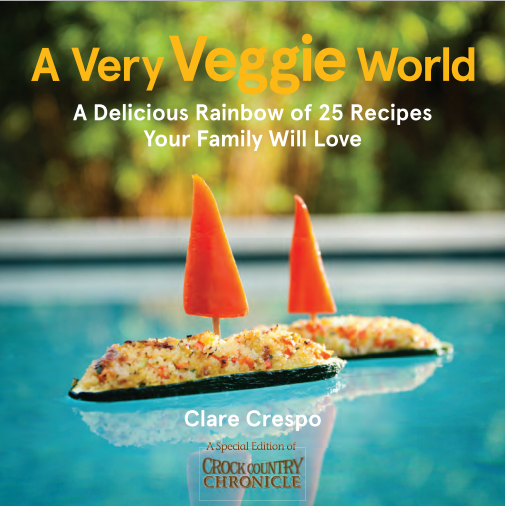 My family has been using Country Crock for years. We love how it tastes and it cooks well with everything I make. So for me, this combination of veggies is a no-brainer. I downloaded the free Clare Crespo Cookbook and from all the fun recipe options, I decided to make the Zucchini Boats. However, I changed up the recipe just a little bit. I forgot to buy carrots and wanted to try using Quinoa instead of CousCous. Here's how it went…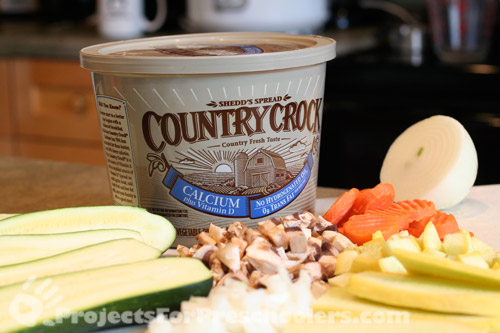 I love the taste of sauteed mushrooms and onions, so I added about 1/2 cup of chopped mushrooms to this recipe as well.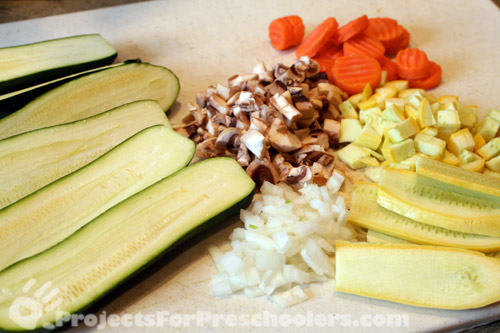 Because I had forgotten to by whole carrots, I used a handful of frozen fancy cut carrots and a whole yellow squash. I thought I'd use the yellow squash just like the recipe said for carrots… it didn't work out as well as I had planned, keep reading.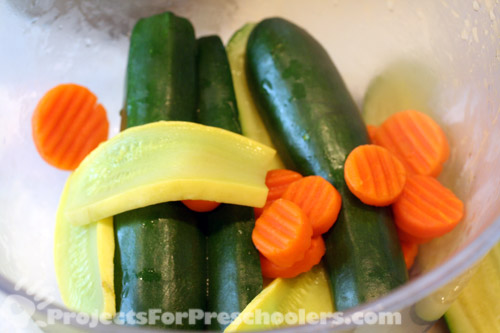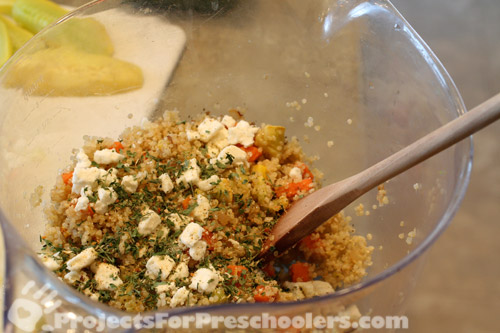 With so many flavors and colors, your preschooler can help put this mixture together. Have a taste test as you go, trying out all the different veggies and food textures. My favorite is the feta cheese!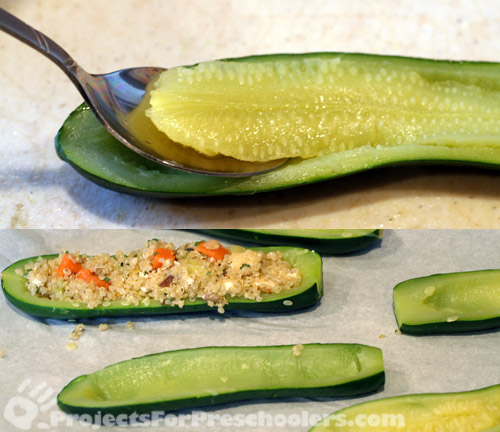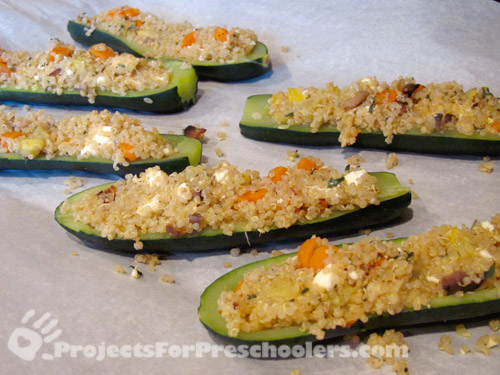 The filling turned out delicious. The added veggies were fantastic. The quinoa was yummy. Now here's where my squash decision backfired. Squash are, well, squishy once they are cooked. Even cooking for a short time, the centers of a yellow squash aren't sturdy enough to stand up on a skewer like the carrots would have done. So really, I made zucchini canoes – which is also cute. Since I already changed up the recipe slightly, I guess going sail-less is ok, but it wasn't the intent. So, for the sake of photos, I did manage to get a couple with a sail before it fell off the stick – ha!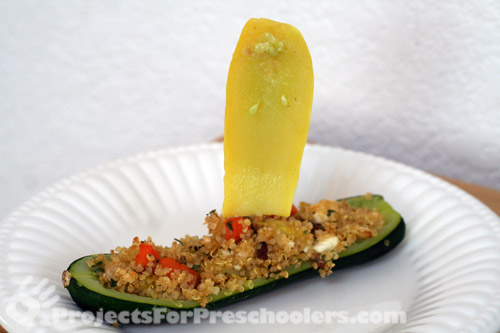 Are you looking for quick and simple tips and recipes to make serving veggies more fun? Download the free Clare Crespo Cookbook here for fun and whimsical recipes your family is sure to love!
More great recipe ideas at The Country Crock Chronicles – a place where moms are excited to serve veggies because they fly off plates! The Crock Country Chronicle is an excellent resource for quick and simple tips and recipes to help make serving veggies fun.
More Country Crock:
70% less saturated fat and 30% fewer calories than butter
0g trans fat
RD approved
I would love to hear if you try out this recipe. The book is filled with all kinds of fun ideas, volcanos, campfires, flower gardens and more fun food crafts that preschoolers can definitely help with.
What fun vegetable creations have you made lately?