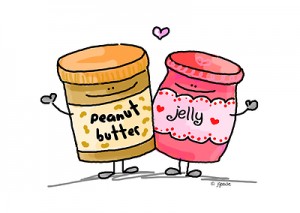 Sometimes kids are hesitant to try new things, especially with food. If you add an old favorite to the mix, and make it fun, they may be more willing to have a go at new flavor combinations. Instead of the usual peanut butter and jelly sandwich, try making an array of peanut butter sandwiches with different ingredients. make half sandwiches and cut each sandwich into half again so your child can try a small sampling of each flavor combo. You can set it up as a peanut butter sandwich buffet and make it a lunch time party.
Here are some ideas of peanut butter combinations to try:
Peanut butter and jelly or jam, assorted flavors
Peanut butter and apple butter
Peanut butter and banana
Peanut butter and cream cheese
Peanut butter, jelly and potato chips
Peanut butter and pickles (dill)
You can also combine multiple ingredients for extra flavor experimenting such as peanut butter, cream cheese and jelly. Maybe consider simply using different flavors of jelly, some more unique than others like black current or apricot instead of just strawberry and grape. Also try to mix it up a bit by using different styles of peanut butter… natural, creamy, chunky or maybe another nut all together such as almond butter.
Let your child suggest ideas of flavors to combine, you never know what they'll come up with. When my oldest was 4 years old, he thought peanut butter and katsup would be tasty, so we tried it. We haven't eaten it since, but it is still something we joke about years later.
More peanut butter fun: Cute peanut butter t-shirts and gifts from JGoode Designs