Make your own special gold coins and use them for counting and sorting activities. I made these coins yesterday so they could be played with for St. Patrick's Day, but they can be reused for a number of other themes including pirate fun! Create two sets of coins in two different sizes so that your preschooler can practice sorting by size. To incorporate a counting activity, make 5 cards, 1 for each number 1-5. I used the colors of the rainbow to write these numbers to go along with the St. Patrick's day theme.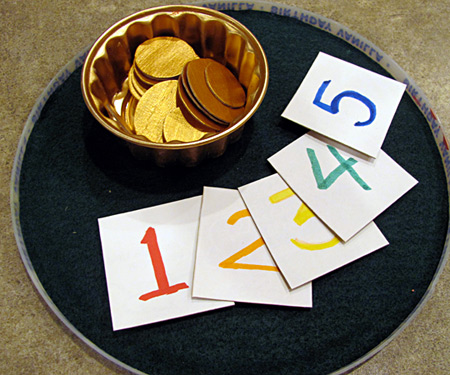 Materials for making gold coins:
cereal box
glue
"Emperor's Gold" DecoArt metallic paint
scissors
To make the gold coins:
Simply paint the unprinted side of a cereal box, let dry.
Fold in half and glue together and let dry, this creates a nice thickness for the coins.
Cut out 15 circles of the same size and then smaller circles of the remaining cardboard.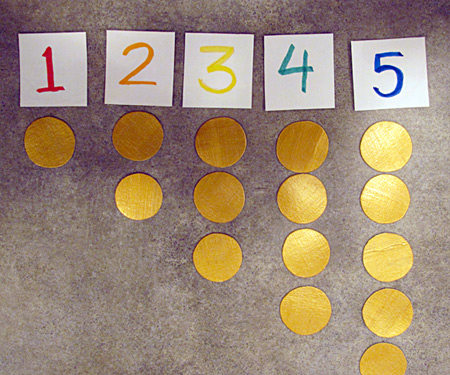 I found a neat little bunt cake tin at the thrift store that has a 4 leaf clover which we use as the pot for our "pot of gold". To finish off this activity set gather the pieces onto some kind of tray. We made our own tray by adding a piece of green felt to a recycled ice cream tub lid to make a tray for all the pieces.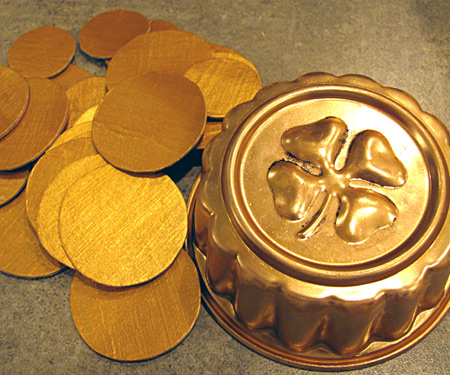 This project was inspired by Living Montessori Now's counting shamrocks activity.
More recommended projects: