Today let's think Picnic! Inspire some creative play outside. If it's raining, just put the picnic blanket in the middle of the living room floor and call it an adventure. You don't have to wait until lunch time to have a picnic either. With a little creativity and some scissors, you can make a fun picnic time play-set. Just grab yourself some felt, a fabric marker and start making pretend food. If you are feeling a bit more ambitious, you could sew pretend food, fill it with some polyfil and you'll end up with more dimensional pieces. However, the kids love these felt pieces just the same.
This activity was inspired by the Designer Crafts Connection – the theme this month is Picnics (and Father's Day).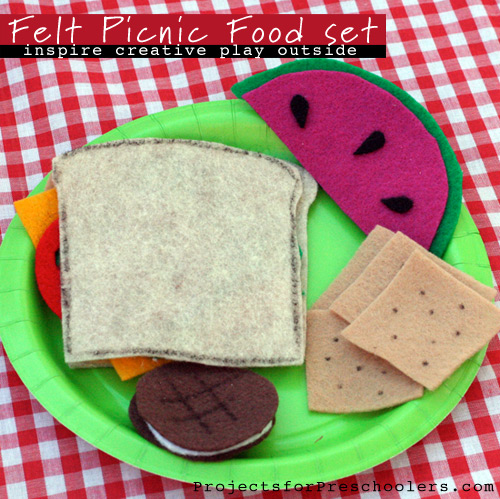 Materials you need:
Felt in a variety of colors
Scissors
Fabric marker (a sharpie should work too)
Instructions:
Plan out which food shapes you'll want to make
Cut shapes from fabric
Add any extra details with the marker
Have fun playing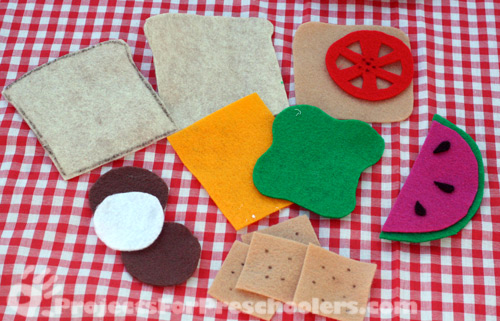 For this pretend food set I included a variety of food items. Bread slices, meat slice, cheese slice, lettuce, tomato, piece of watermelon, crackers and pieces to make a cookie. You can change the type of food you include to fit your own preferences. Maybe use purple or pink felt in an organic shape to make jelly and another in brown to make peanut butter, etc.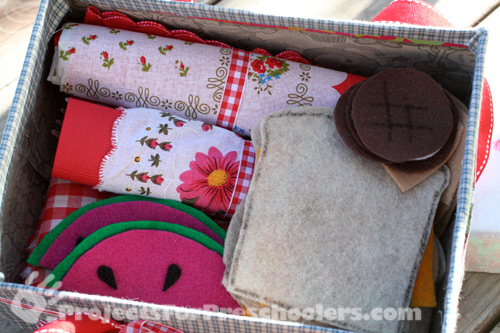 Pretend play helps with problem solving, socializing and imagination. Plus pretend food has much few calories! Preschoolers can mix and match the food pieces as they'd like. They can practice sharing and making things for others. You can also make a cute shoebox picnic basket or print out my printable picnic invitation to make a complete set for this activity. For more fun picnic ideas, visit 100Directions.com