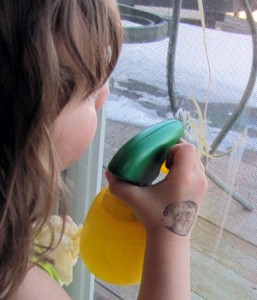 Some of the most obvious activities can be fun times for preschooler play. Water and squirting is always a favorite past time of any child, but it doesn't always have to be an outside project. Sometimes a water-table activity is a bit more time consuming than we have in the day, so here's a project that is easy to clean up yet loads of fun. If you have a glass patio door or low sitting window, this can be a great place for a fun window washing activity.
You need:
water bottle with spray nozzle
small cloth or paper towel
Let them play
Simply let your child spray the window with water and "wash" it clean.
For added fun, let your preschooler draw on the window with Crayola's window markers and then wash off the drawings.
Extra Tip: if you have carpet near your window washing play spot, use a beach towel to help prevent the carpet from becoming too wet.