Birthdays are always a great opportunity for your little one shine. It's their special day to celebrate all of their strengths, talents and things that are uniquely them and share this with their friends and family. They are the spotlight for the day. They get to share what they love with the world while the world comes along for the ride. With fun project ideas, specialty cake decorating and birthday theme ideas, there are an unlimited array of ways to customize your preschooler's birthday party to be as wonderfully one of a kind as they are.
Special Birthday activity ideas:
You don't have to have a planned party to do fun things for your preschooler's birthday. Something special for their day can really add a little extra sparkle in their eyes.

Here are more birthday ideas from submissions to the All Things Family blog carnival:
Coloring Pages:
Birthday Party Ideas: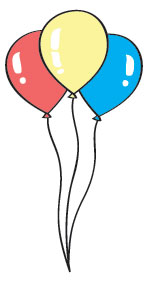 More Birthday Fun:
That concludes this edition of All Things Family.
Submit your blog article to the next edition of
all things family using our carnival submission form.
Past posts and future hosts can be found on our blog carnival index page.
(illustrations by JGoodeDesigns.com)
Find creative DIY inspiration with my new book...
Quick and Easy Creativity - Last Minute Gift Ideas
, just in time for gift shopping season! This book is filled with over 20 project tutorials created by 4 different fantastic designers! Fun projects ideas you can make in less than a day. You'll fine a variety of project ideas for kids, adults, families and groups.
Find out more or buy the book.
Comments - I'd love to hear what YOU think!