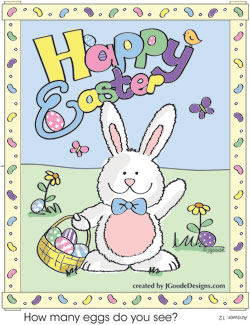 Here's a coloring page full of fun Easter activities. Do you see the little bird? How many flowers can you count? Find all the Easter eggs or create a color sequence with the jellybean border. This cute Easter Bunny is holding a basket full of eggs, just waiting to be colored. The kids will have a great time with this Easter activity page.
Print out the Easter Bunny coloring page
provided by JGoodeDesigns.com
Find creative DIY inspiration with my new book...
Quick and Easy Creativity - Last Minute Gift Ideas
, just in time for gift shopping season! This book is filled with over 20 project tutorials created by 4 different fantastic designers! Fun projects ideas you can make in less than a day. You'll fine a variety of project ideas for kids, adults, families and groups.
Find out more or buy the book.
Comments - I'd love to hear what YOU think!