Play a game of ring toss with your preschooler for a fun indoor or out door activity. Here we've made our own ring toss game using a a few recycled items and some ribbon. To make our rings for tossing, we used a large styrofoam drink cup we had from a gas station snack stop. The kids can play with friends or play alone to try to beat their own record. It's easy to play, simply take turns tossing the rings at the pole. The goal is to get as many hoops to land around the pole as you can.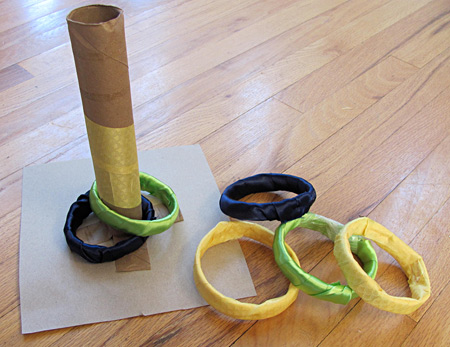 Materials:
Empty paper towel tube
A 9×9″ square piece cut from a cereal box
An empty styrofoam drink cup cut into rings
Glue
Assorted ribbon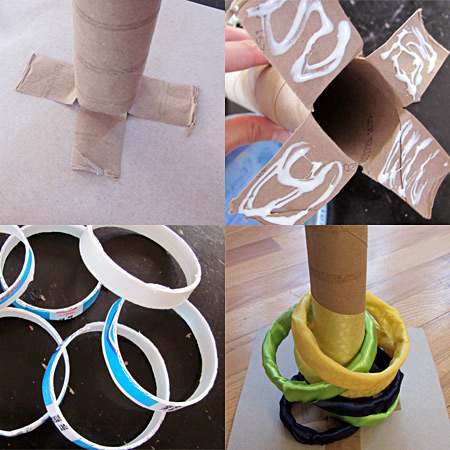 How to make a ring toss game:
Cut cup into rings and wrap with ribbon. Glue ribbon in place to hold. If the rings break as you cut them or as they are played with, simply use some sturdy tape to put back together.
Make 4 cuts into the bottom of a paper towel tube so you can fold the edges upward. Glue the edges to the cardboard square cut from the cereal box. Hold for 1 minute then set aside until dry.
Find creative DIY inspiration with my new book...
Quick and Easy Creativity - Last Minute Gift Ideas
, just in time for gift shopping season! This book is filled with over 20 project tutorials created by 4 different fantastic designers! Fun projects ideas you can make in less than a day. You'll fine a variety of project ideas for kids, adults, families and groups.
Find out more or buy the book.
Comments - I'd love to hear what YOU think!