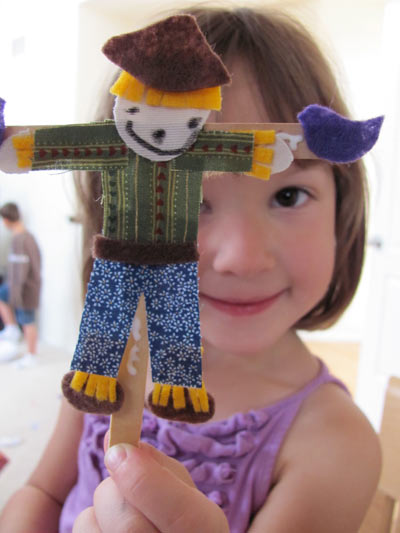 Make a super cute scarecrow and add some Fall fun to your activities for the day. You can easily make a pile of these cute guys and then use them for song time, decorating or just for fun.
Download a free scarecrow pattern to use for this project
You need:
popcycle sticks
fabric or colored paper
glue
markers
How to make the scarecrow:
Glue two popcicle sticks together in a "t" shape.
While the stick dry cut out the scarecrow pieces and parts. You can use scraps of fabric and/or paper for the various pieces.
Glue the scarecrow pieces in place, let dry.
Draw a face on your scarecrow.
Sharing this project at:
Fall Crafts for Kids Roundup
Find creative DIY inspiration with my new book...
Quick and Easy Creativity - Last Minute Gift Ideas
, just in time for gift shopping season! This book is filled with over 20 project tutorials created by 4 different fantastic designers! Fun projects ideas you can make in less than a day. You'll fine a variety of project ideas for kids, adults, families and groups.
Find out more or buy the book.
Comments - I'd love to hear what YOU think!