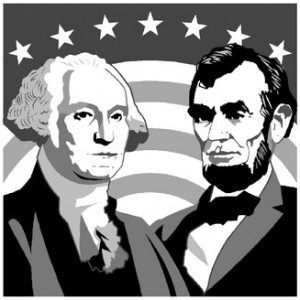 Presidents Day is a day to celebrate and appreciate the presidents of the United States of America. It is a national holiday recognized every February and features two of our most recognized presidents, George Washington, the 1st president of the US and Abraham Lincoln, the 16th US president.
President Washington was born February 22, 1739 and President Lincoln was born February 12, 1809, so presidents day is also recognized as a celebration of both these men's birthdays.
Great preschool projects for Presidents Day, Presidents Day coloring pages and other Patriotic activities:
Presidents Day Projects and crafts for preschoolers:
Find creative DIY inspiration with my new book...
Quick and Easy Creativity - Last Minute Gift Ideas
, just in time for gift shopping season! This book is filled with over 20 project tutorials created by 4 different fantastic designers! Fun projects ideas you can make in less than a day. You'll fine a variety of project ideas for kids, adults, families and groups.
Find out more or buy the book.
Comments - I'd love to hear what YOU think!