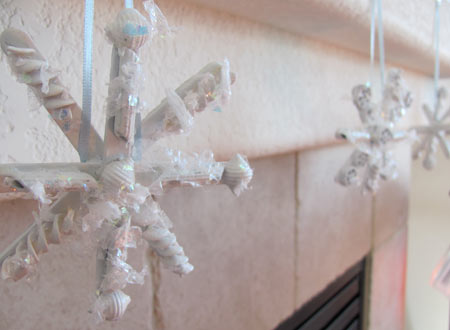 Snowflakes inspire fantastic craft and art projects. You can make a snowflake out of just about anything with enough imagination. Create snowflakes from paper, glitter or paint a picture. You can make some beautiful winter art projects featuring snowflakes as well. Here are some great project ideas you can try with your preschooler to make all kinds of snowflakes:
How to make a snowflake by cutting paper
More snowflake project ideas:

Share ideas for art, crafts, games, recipes and other ideas featuring snowflake project ideas. Tell us about your favorite idea.
Find creative DIY inspiration with my new book...
Quick and Easy Creativity - Last Minute Gift Ideas
, just in time for gift shopping season! This book is filled with over 20 project tutorials created by 4 different fantastic designers! Fun projects ideas you can make in less than a day. You'll fine a variety of project ideas for kids, adults, families and groups.
Find out more or buy the book.
Comments - I'd love to hear what YOU think!