Making crafts is always a favorite activity with preschoolers. There is so much fun to be had in cutting and gluing to make something new and wonderful. What about turning those craft supplies into another project all together? Create your own sorting activities. Sorting simply grouping various objects into sets according to some criteria. Sort by kind, color, size or some other attribute that you want to teach your child to recognize and tell the difference. Sorting activities can be larger items such as shoes or tiny objects such as beans or colored rice.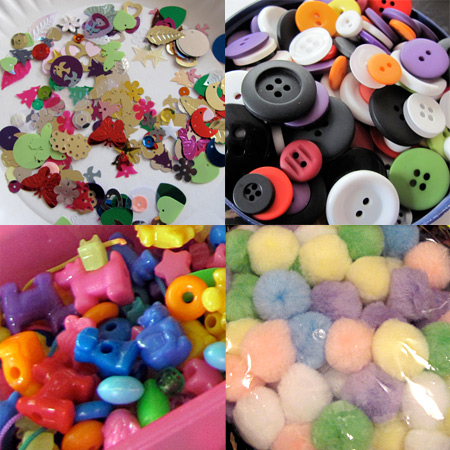 Sorting Activities that can be done with very few supplies, but can be made fun and new with new pieces and parts. You can buy sorting activities and games, but with just a few pieces you can make your own sorting games over and over. Try using a muffin tin and a small bowl of beans as a quick project. Or pull out those special sparkly craft embellishments and a divided party serving play for a new twist on the same activity.
Make a sorting activity that you can take with you. Using a small pill container and beans or small legos you could create a mobile sorting game. Or try stickers and a laminated board so the stickers can be applied and removed again and again. Another idea if you don't have large beads, make your own using clay or play dough that you allow to dry. Using your imagination or let your preschooler help create sorting activities that they can play over and over.
Containers for sorting activities
Using like containers helps focus the activity on the objects to be sorted. Here are some suggested containers you can find around the house.
Muffin tins
Ice cube trays
Cupcake liners
Spray paint lids
Small bowls
Objects for sorting activities
The idea is to use similar objects that can be easily grouped based on a single attribute. Craft supplies work well because they can be purchased in qualities allowing for matching items.
Dried beans
Colored rice
Buttons
Legos
Glass gems
Blocks
Beads
Craft foam shapes
Colored paper shapes
Popsicle sticks colored with markers
Pom Poms
Make sure to select items that your child will have fun working with. If the items are too small the activity may be too difficult, or if the items are too big and easy to sort your child will whiz through the activity and soon be ready for something new. Challange your child while giving them enough opportunity to succeed. You can also add in extra learning opportunities such as small items to help with fine motor skills, or sorting by color requiring the name of the color be said before placing in the appropriate container, etc.
Have fun sorting today!