Explore site, sound and even weight with these easy to make discovery jars (aka sensory jars). Using canning jars filled with water and objects from around the house, you can create an activity that can be explored over and over again. Your preschooler will have fun helping make these sensory jars too. If you'd like, you can turn it into a sorting activity first, allowing your preschooler to sort the objects into their appropriate jar and when they are finished, add the water and seal tightly.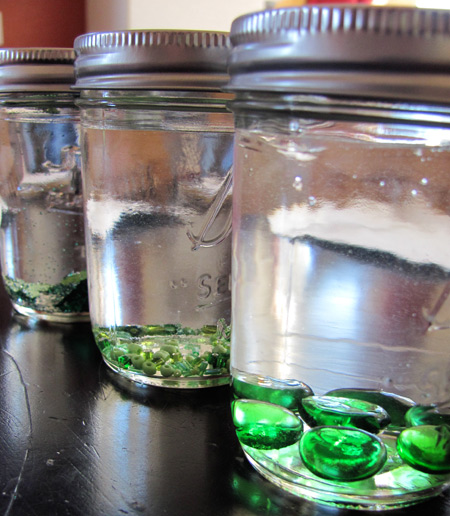 Using pint sized mason jars, we created 3 jars, each with different objects inside. One has glitter and very light weight plastic craft shapes. The second jar contains small beads. The third jar contains glass rock-like gems. We choose to include objects that are all green to go along with a color theme for the week as well. Later we decided to add food coloring for more green fun, applying various amounts of color to be able to explore "which is dark?" or "which is lighter" activity discussion.
Observe the differences
Hold the jars, one in each hand, to see which is heavier.
Shake each jar to see which makes a louder noise.
Look inside each sensory jar to see which items float around and which items immediately sink to the bottom.
The options of what types of objects to include are unlimited. Try items such as marbles, small rocks or buttons. Make to to only include waterproof items to your jars. Items such as rice or dried beans are fine if you omit the water. For added fun, include a touch of food coloring to each jar.