The Denver Children's Museum is hosting their annual Trick or Treat Street this weekend. We just went yesterday and had all kinds of fun! Dress up in costumes, bring the treat buckets and get ready to explore all the activities of the museum plus extra Halloween fun and it's all included in the regular admission.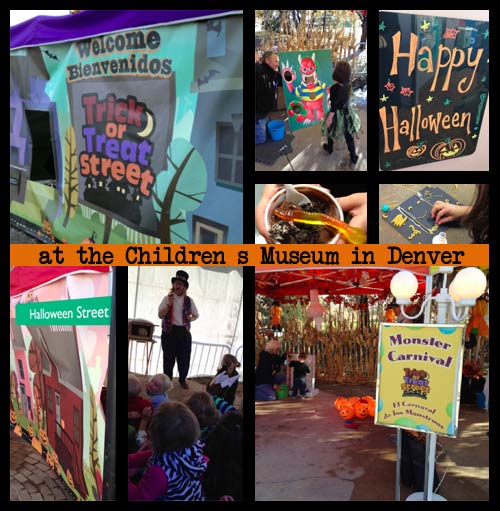 The activities vary each day, so check out the schedule on the CMD website.
Things we did at the Children's Museum Trick-or-Treat Street
Danced on circles that follow you on the floor.
Watched a magic show with Anne London – the kids laughed SO HARD!
Made a paper ghost wind sock
Created spooky noodle art.
Ate "dirty desserts" – it's chocolate pudding, oreo cookie crumbs and gummy worm, yum!
and of course we visited all the treat stations. When you first arrive there is a treat tent, they are handing out treat bags, so really you don't even need to bring your own.
Tips:
If you aren't a Children's Museum member, there is a $5 fee for parking. You can use a credit card, but save yourself the time and bring cash.
Some of the Halloween fun is inside, mixed in with the regular CMD activities. Other activities in in tents outside, so make sure to bring your coats… it's chilly out there today.
For more info and to buy tickets visit the Children's Museum website.
Not in Denver? Do you have a children's museum or trick-or-treat street activity in your area? I'd love to hear about it!
Disclaimer: I received tickets to attend this event in exchange for this review.